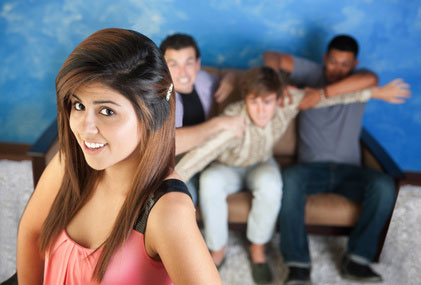 Here's a post that's sure to raise some ire.
Ricardus and I were discussing men's tendency to want to sleep with sexually open women, but to date or settle down with or marry sexually conservative women - and how difficult it is actually figuring out how many partners women have actually had because of this. You see, women are acutely aware of this male bias against sexually experienced women when it comes to getting into serious relationships - and they do everything in their power to avoid getting pinned as such a woman.
"Everything in their power" here including, sometimes (okay, oftentimes), stretching the truth, leaving things out about their forgotten pasts, and, well, lying.
Of course, women don't think of it as lying. It's more like, "Well, I slept with that guy on vacation, so he doesn't count," or, "That guy was totally gross, I should never have hooked up with him... as far as I'm concerned, that didn't really happened."
It's a form of selective memory used by a woman to preserve her idea about herself as fitting perfectly into society's recommended mold: that of the "good girl" who doesn't give it up too often to men. Women who do part with their bodies too easily, society tells women, aren't valued as highly, so it's a big no-no.
But, well, women are people, and people like and want sex, and sometimes it... just happens. Of course, a woman doesn't want other people to know it just happened... at least, not as much as it actually has just happened... because that impacts her perceived social and reproductive value.
So, she stretches the truth, leaves things out, and, where necessary, tells a lie or two.
Any women reading this site may not especially like this article, but if you're a man who's seriously considering a relationship with a girl, and you want to know what you're actually getting instead of what you're being told you're getting... how do you tell who's whom?