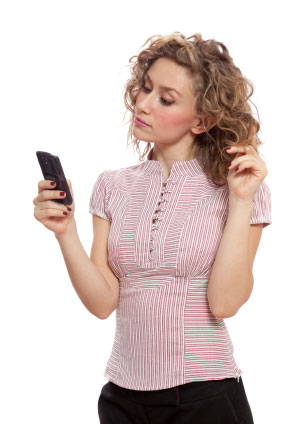 A reader writes in:
I found something strange. Everytime Im having long interactions with girls in pickups on the streets, I bomb. I mean, she dont text back. It reminds me of Murphies law: If everything cant go wrong, IT WILL. I recently approached 10 women of which gave me attraction signals. They touched me, called me cute, called me the most interesting person, smiled, was high energy, stayd 20 minutes with me, and asked me to text them. I had good interactions with them and was smoothe and confident. I bonded wtih them and made plans to see them. They never texted back and I dont nkwo why.

I did another experiment where I cutted my interaction short about 3 minutes and asked for the number. Most of the shorter ones agreed on dates and texted back, and note, most of them gave me negative signs first. Is it because women use guys that they give fake "attraction signals?" Why do they seem so much into me at first but never bother to actually get into contact again? It happens over and over so much that when a girl give me signals thats too good to be true,I can almost predict that I will never hear from her again and Im alwasy right. I know it sounds counter-intuitive but I think the women who give you immediate signals are maybe time waster"? And what is your thoughts, do you find the same?
Brings back memories.
When I stepped up my activity levels in 2006, I noticed an odd trend: the women I spoke to for longer periods of time, and seemed more into me, ended up being less likely to ever return my phone calls or texts.
How bizarre, I thought to myself. This certainly doesn't make much sense.
But the numbers didn't lie. So, I did the only logical thing I could think to do: I worked to shorten the time I'd spend with girls whose phone number I intended to grab, and only spend a longer time with girls I intended to take home that day or night.
Almost overnight, the problem of girls not texting back and girls not calling back all but disappeared. But it still left me scratching my head a bit... why did spending more time with a girl and having her come to like you more lead to her falling off the face of the Earth and not returning text and calls later?