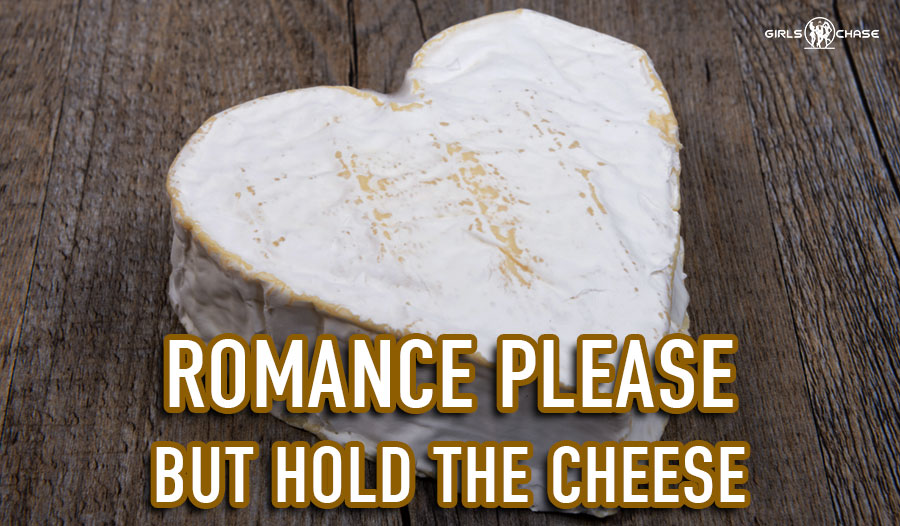 We all know that trying too hard turns women off, but you still need to show her you care, right? How do you be romantic without going overboard?
It's a hilarious irony that although romance is the most talked about subject in human history, how to be romantic is a largely misunderstood subject, by both men and women. Keeping a woman happy is a lot easier than the literature would have you believe.
This simplicity is your liberation from the idea of sacrifice as love.
Romance is a simple combination of:
Her being appreciated and noticed

Her being well sexed
She wants to be noticed for both her physical qualities and her personality. She wants to feel sexy and beautiful but also smart, courageous, funny, etc. If you show her and tell her, with earnest sincerity, she will feel these ways because of you.
That's one half of romance.
She also wants to be desired sexually and ravished. There is no higher compliment to a woman than your hard dick enjoying itself inside of her. But men complicate this, usually in an attempt to not treat her like a sexual being, out of fear or "respect," which is another cute irony.
The truth is, women want to be objectified sexually, even sometimes without romance. Or, in a serious relationship with romance, or at least moving in that direction, you then add appreciation for her personality to the base of your sexual desire. However, sexual desire is still the foundation and the way of expressing your love.
This is what separates the creepy guy at the bar objectifying her and her adoring, masculine lover, boyfriend, or husband. The creepy guy, or any guy she doesn't see as dominant, is insulting her by desiring her sexually.
"How could this guy think he has a shot with me?"
Sure, a hundred loser guys liking her photo on Instagram will make her smile and feel validated, but it's worth one-sixteenth of a sixteenth of a second of her lover's appreciation for her.
And she has no problem with the sexual objectification, as I said, even if he's a random HOT stranger. That's because, for X or Y hot characteristic he has (fashion, charisma, tall, handsome, status, money, devil-may-care attitude, etc.), his sexual attraction is welcomed.
He's "allowed" to objectify her because she ALSO positively objectifies him (I want to have sex with him, or "I want his babies").
And this is romance.
It's a combination of appreciation and lust. The question that inevitably follows from any man who knows the nature of women is how to achieve a balance.