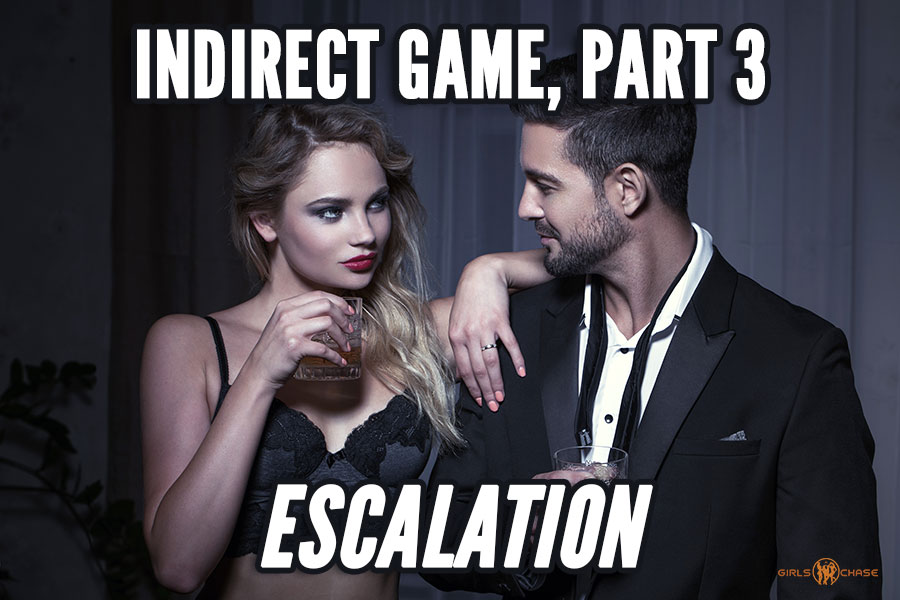 Now that you've gone in indirect, and increased her compliance, it's time to make a move and escalate the vibe.
Hey guys. And welcome back.
Today we will continue and bring to a close our series on indirect game.
Previously we discussed how to show interest the right way when using indirect game — When? How much? How? — while keeping your interest levels in her unknown or ambiguous (depending on your style) to make her curious, compliant, and eventually get her to start chasing you.
Then we discussed how to reinforce this method by using a reward and punish mechanism. Women are attention-craving, and whenever a woman acts compliant to you (for instance, by showing interest), you reward her with attention (for example, through escalation). If not, you punish her by cutting her source of validation (like ignoring her for a while).
Indirect game is a fantastic way of meeting and seducing women. It allows you to build compliance unbeknownst to the girl because of your ambiguous indirect stance. If being indirect fails to get her compliance, it can at least buy you time — since you do not force early rejections — to use other compliance-building techniques, like sex talk, to turn a less favorable situation around.
It is easy to overfocus hiding your interest in a girl to avoid feeding her attention-craving needs and keeping her compliance levels up. What usually happens is guys risk being too passive. Things don't escalate, and nothing happens. This is a trap I fell into when I started out, and I know many fall into it.
Good indirect game is not the equivalent of being passive. At some point, you have to make a move, or it will all go to waste.
Today we will discuss the importance of escalating the vibe vibe and clarify what may seem like a contradiction: keeping your interest levels ambiguous (being "indirect") while escalating the vibe (making a move, seemingly being "direct").
We will also cover how indirect game helps you lay the groundwork for escalating the vibe and how indirect game can help you whenever she resists.