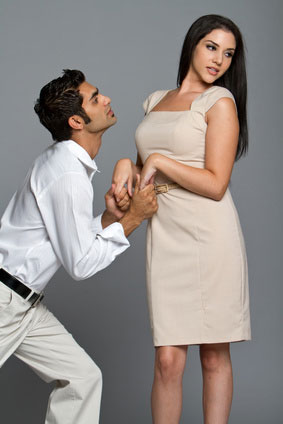 Poorly-set precedent: it's the scourge of relationships across the face of mankind. Every day, the whole of the male sex collectively writhes in agony at its own terribly-set precedent coming back to haunt it - and bit it right in the ass. Bad precedent is the unadulterated cause of:
Ending up the platonic, sexless orbiter trapped in a girl's friend zone

Becoming viewed as a promising boyfriend candidate instead of a lover

Finding yourself in a relationship where you're doing all of the work

Being endlessly browbeaten by an overly dramatic girlfriend

Losing a woman's respect and attraction in any kind of relationship
Some time back, I posted the article about operant conditioning here, and how this kind of relationship training and management is used for guiding and directing your relationships in the directions you want them to go.
We also discussed briefly in that article how incorrect use of operant conditioning actually reinforces and encourages bad behavior that is destructive to the relationship and harmful to both the man's and the woman's levels of happiness and contentedness within it.
An understanding of operant conditioning - basically, that how you respond to good, bad, and neutral behavior from someone who's a part of your life influences how likely you are to see that behavior again, and how often, and how much it escalates - is necessary for an understanding of precedent: that what came before influences what is to come again.
And you will find that in your relationships, if you are perceptive enough, you can all but tell the future, simply by putting a microscope over the past - your past, your girlfriends' pasts, and the pasts you've shared together.
You can also determine the future, by building the kind of past precedent necessary to have the kind of future relationship you want, all by doing the right things now.
Yet, you'll find most people are not willing to do this, because a little more pain now for a lot more happiness later is a bargain 99% of people are unwilling to make.