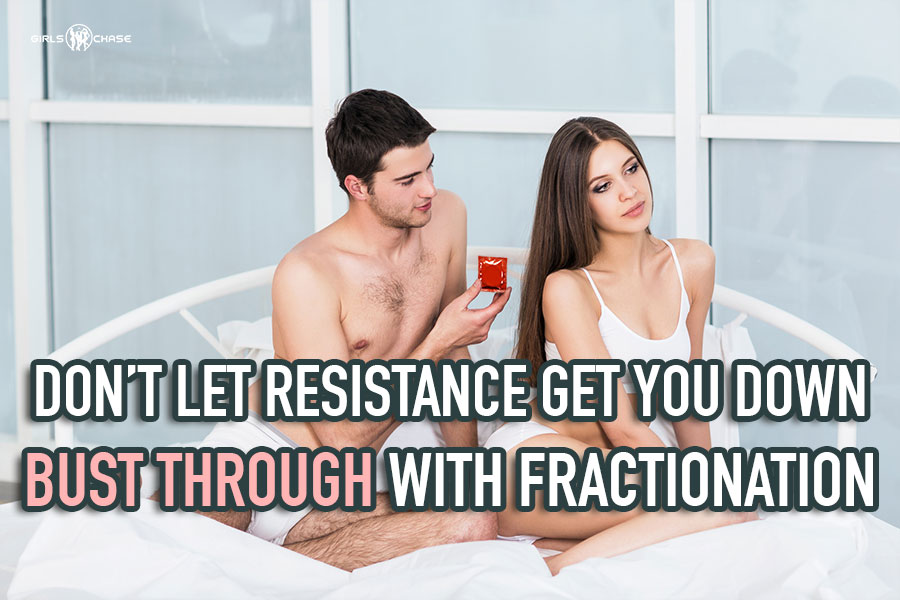 When women resist sex, it's easy to get frustrated. But you can beat this resistance (or often even preempt it) with a little dose of fractionation.

Hey, guys. I hope you are doing well. Today I'm going to discuss a very frustrating subject, something that if you can't deal with can make or break a seduction at the worst possible moment – the last minute before sex.
Last-minute resistance (LMR) is what you face right before you get down to business. You could be in bed, both hot and horny, and just as you make your final move before sex (usually when you try to touch her more intimately or take off her panties, etc.), she resists. In its most simple terms, LMR is "resistance to sex" during the final phase of the escalation process.
Throughout the years, we have published several articles on Girls Chase about LMR. Here are a few:
And a report by me covering a real-life case of last-minute resistance!
This post will cover another technique you can use – in any situation – whether you met her during the daytime, nighttime, social circle, etc. As long as you are at your place, her place, or anywhere you can escalate things in peace, this technique can be used.
Additionally, this technique is rather simple to pull off and not very risky. Sure, as with any technique, practice will generate mastery, but compared to many other techniques, this one is a relatively safe bet, and I would say it's fit for seducers at all levels.