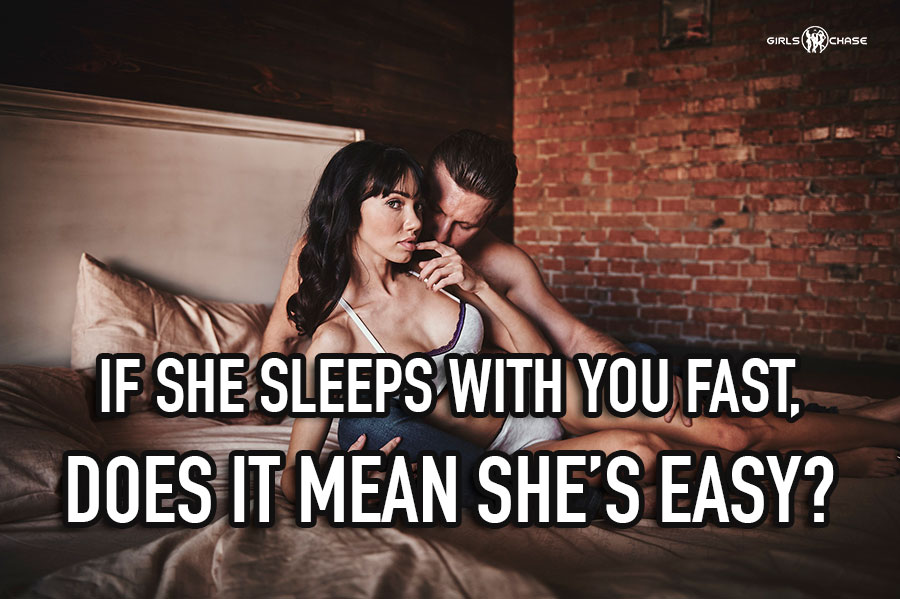 If she has sex with you fast, does that mean she's easy? Well… it might. Yet you need a bigger sample size than one (i.e., just you and her) to really know.

One of the more prevalent notions about women and time-to-bed (I'm just going to call it 'TTB' in this article) is that the faster a girl gets in bed with you, the sluttier she is.
This is not just an Internet meme. It existed long before the Internet did. It probably goes back as far as humans have been a mostly-monogamous species and have possessed language (that is to say, this meme's at least a million years old).

Like much wisdom that's been with us for a long time, it's rooted in truth. On average, easier women have shorter TTBs (times-to-bed). The harder a girl is to get, the longer her TTB is, on average.
BUT, there is a but. There's a big but. A Kim Kardashian-with-gluteal-implants sized but.
To be more accurate, there are several big buts.
And if you don't know what they are, there's a not-insignificant chance you will ditch a low partner count girl who's never moved as fast with a guy as she did with you and never will again... or wife up a high partner count girl (with similarly high predilections to stray) after mistaking her for a cagey, hard-to-get one because she knew how to play the game (or just wasn't that into you).