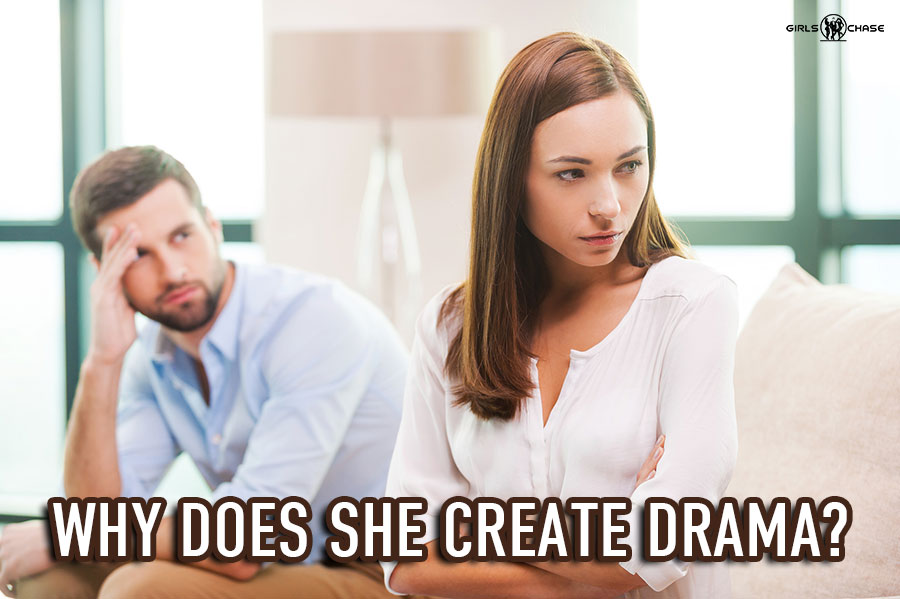 Relationship insecurity and loss of respect are common culprits when women create drama. Here's how to identify the root of the issue and nip it in the bud.
The drama is never done with your girlfriend. There will always be drama, regardless of whether you did anything to annoy her, anger her, or make her feel insecure.
If you're running the relationship well, drama will be low. You run a relationship well by providing her with good dick and enough adventure to satisfy her. You maintain her respect by being a man with pride and self-respect and by making her feel secure that you won't randomly leave her without due cause.
Of course, her personality and propensity for anxiety, depression, anger, jealousy, and other drama-causing emotions play a huge role in how often she starts drama. That's why picking a girl carefully is paramount for a healthy long-term relationship.
Nevertheless, you will eventually do something to upset her or she'll be upset about something in her life and it will make her over-sensitive to normally acceptable behavior – then she'll take it out on you.
This is fine. Drama is good. Without drama, we'd get bored. My primary reactions to drama are annoyance or anger – but occasionally, I enjoy it. The ups and downs addict us. Plus, it's fun to watch her get horny when you win an argument. It's great when she was mad at you but she's forgiven you for something – you may be a bastard, but you're her bastard.
However, you need to know how to finish drama. And one tip that will save you a lot of frustration is this: drama isn't usually over after one fight – or even one discussion.
If the drama was anything beyond a small misunderstanding, it might take two, three, or even more talks to settle the fire, and days could pass between each discussion. You'll think everything is fine, that you solved the issue, but then a few days later, you'll notice she's in a mood, and you'll ask yourself, "What did I do now?" You'll wonder and wonder, then prod and prod, asking her what's up. You'll get the infamous "nothing" response. Then you keep nagging.
Yes, keep nagging. Don't let her get away with answering "nothing" when it's clearly something. That will show you to be insensitive to her emotions, which makes her feel like you don't understand her. It's your job as a boyfriend to take care of her emotions. You're her lover and, in some ways, her father.
If a girlfriend won't spit it out, I'll say to her, "Okay, we'll I've asked multiple times now and you won't tell me what's wrong. Later, if you tell me something was wrong, I'm going to be pissed. This is your chance." Usually, she will tell me at this point. If she doesn't and complains about something later, I'll have morally righteous anger on my side, which is very powerful in drama.
"Woman, I told you…"
Works like a charm.
Once you find out what's wrong, it's time to deal with the problem. This is done in two steps.