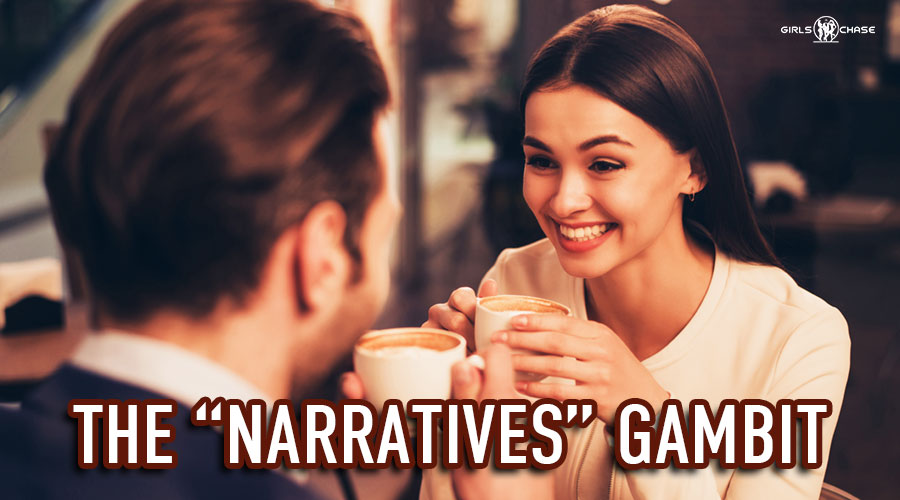 I call this one the Narrative Gambit. It comes with a great transition into sex talk and uses pacing and NLP to get her thinking about having sex with you. Enjoy!
Welcome back. Today I will share another sex talk gambit, which I use a lot lately.
The gambit is easy to pull off and intuitive to understand. I will share the gambit, and like always share the mechanisms behind it; how, why, and what makes it work. This will help you not only gain new knowledge around useful concepts for pickup and seduction but also give you tools to create your own gambit.
This post is shorter than my others, since the gambit itself does not contain many over-advanced concepts. The transition (which I will cover because I know many like to read about transitions into sex talk) does contain quite advanced concepts which I will not discuss here. Look for this in a future post (which will have a link back to this post so you can reread it with a different eye).
But in practice, this should be easy to pull off.
This post is suited for any seducer who:
Has the ability to calibrate
Can maintain and manage conversations
Has their fundamentals in check (key!)
When should you use this gambit?
I have only used this one in night game, but this works great on a date, and perhaps on the street, once you have hooked her in and have managed to keep a conversation going.
In night game, you can use this gambit anytime post-hook.
KEY NOTE: You can also use this gambit in groups, although it requires more smoothness and calibration. It works great.