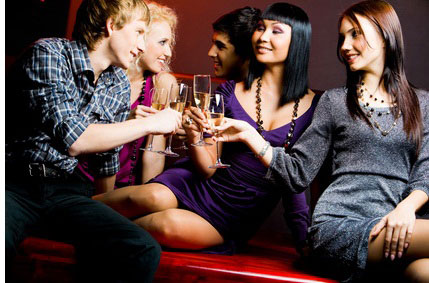 A buddy of mine recently asked me to write on how to meet girls in groups, as it's something I don't talk about a great deal on here. The most I've touched on the topic before has been in "Breaking Circle," the post on maintaining attraction despite distractions around you or even other people trying interrupt you.
But, as my friend noted, I haven't gotten a proper treatment on meeting women in groups up yet, so this is it.
Meeting girls in groups is one of those things that, assuming you're doing much nighttime approaching, you're going to run into reasonably regularly. In fact, it may very well be the meat and potatoes of your approaches -- you might just find yourself in groups most of the time.
Groups aren't ideal, of course. Things tend to move faster and more smoothly the majority of the time when it's just you and your girl, and there are no interruptions or distractions to knock the two of you off course.
However, when handled appropriately, any negatives of groups can usually be negated, and in fact you can sometimes even get groups working for you with the women you meet. So it doesn't always have to be unfortunate that that pretty girl you like is in the middle of a group -- sometimes groups make it even easier for the two of you to get together.