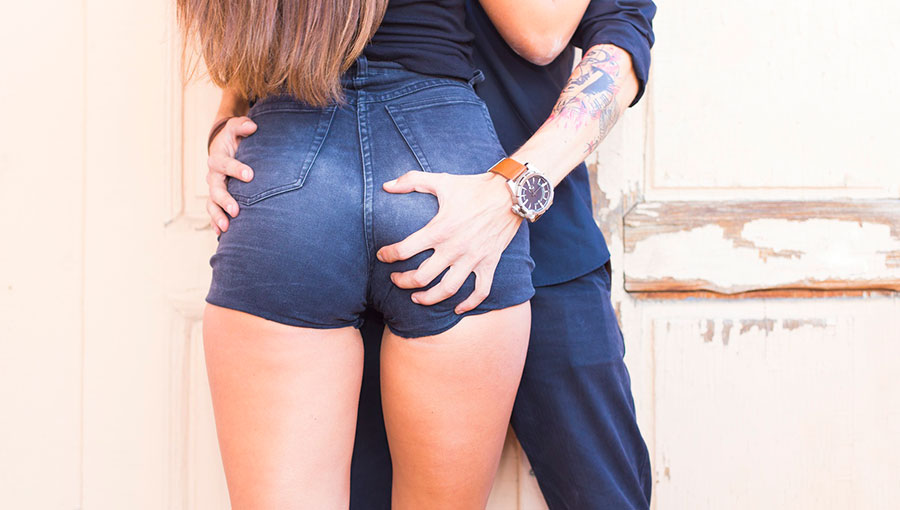 When's the last time you grabbed a girl's ass? There's a good way to do this – and you needn't wait till she's your girlfriend, either.

She doesn't see me immediately as she walks out of the metro. I'm laughing to myself as I stare at her, waiting for her to recognize me. But she did get lost a few times trying to find me, so I'm sure she's a bit disoriented.
It's when she is about to pass me that I speak up.
"Hiiiiiiii."
She looks at me, shakes her head in surprise, then laughs. "Oh, hey!"
Silly girl. She apologizes again for going to the wrong coffee shop the first time. I tell her it's no biggie, and we walk to grab coffee. After we order, we sit and wait. I blatantly look her up and down, and she smiles curiously at me.
"You look so sexy," I say to her.
"Thank you!" she says, giggling.
She's an alternative girl – piercings, tattoos, and a super independent attitude. She's also German, so stoicism is standard for her. Our first interactions at the hotel she works at involved a lot of teasing and me kind of dominating the room, but that's only the penultimate strategy for a girl like this. They love to be challenged by cocky assholes, but with every woman on the earth, there is one strategy that reigns supreme – the lover.
"If I get distracted during our date, it's because I'm staring at you, just so you're aware," I say, smiling.
"Okay!" she says, laughing. Girls never know how to respond when I make statements like that, and it's great. They have no reference point to draw from, because I'm unlike anyone they've ever met.