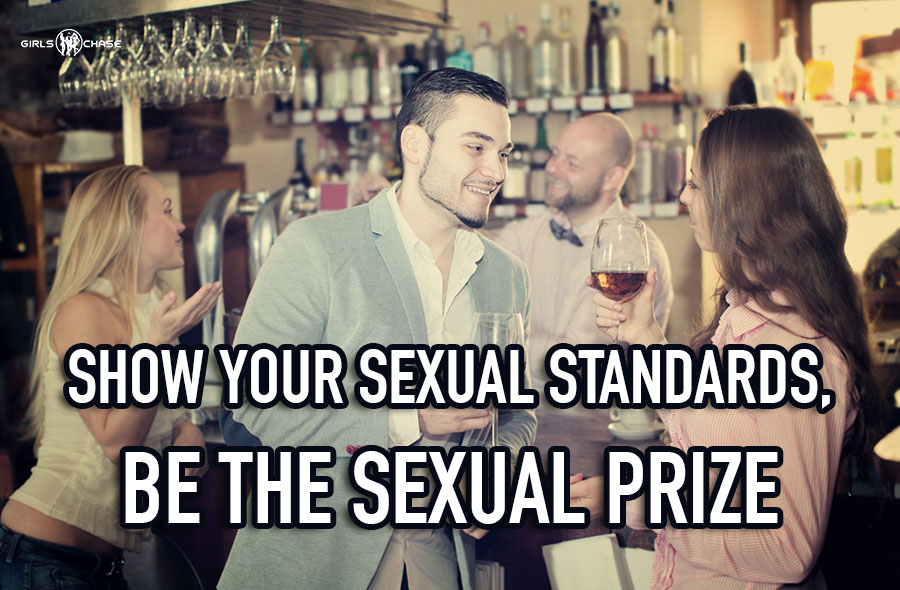 A mighty new way to position yourself as a sexual prize a girl simply must have: communicate exciting sexual standards to her that also turn her on.

Welcome back, gentlemen!
Today I will share a cool verbal technique that will help make a girl perceive you as a more attractive lover (through sexual prizing). It also gets her to comply to sexual behavior that you find preferable.
Yeah, that sounds pretty juicy, but this strategy is not too hard to pull off. It can be used by intermediate and advanced players. Beginners can give it a shot, too, but I believe it is key to have your fundamentals in check before attempting this. I also believe a minimum amount of sexual experience is important when it comes down to using this technique.
This technique is based on the concept of having standards (and how to use them to attract women). Women find men with standards to be of higher value. In other words, a man with standards is perceived to be more attractive. Women find it attractive when a man knows what he wants and how to get it. A girl will also feel more desired and attractive when she feels like she is being "accepted" by a guy with standards.
Note that I used the word "accepted," which assumes she is the one chasing him and he is the one accepting her, which is by itself a good frame. Additionally, through the use of standards, you can challenge her, disqualify her, and force her to qualify. All of this sets the frame of you being the prize, which amps up her attraction.
Now, if you haven't read yourself up on the importance of standards, their roles in seduction, their benefits and limitations, and how they can be used to "qualify her" and "disqualify her" (i.e., forcing her to qualify to you), then I suggest you check out the following posts, as they constitute crucial fundamentals in seduction (and posts covering fundamentals are must reads).
And for those more advanced players out there who enjoy using sexual game (including sex talk and other methods based on sexual prizing), check out this post that discusses how to use your standards to make her qualify sexually.
This post will discuss similar concepts, and the idea will be to use your standards to make her qualify to you sexually.