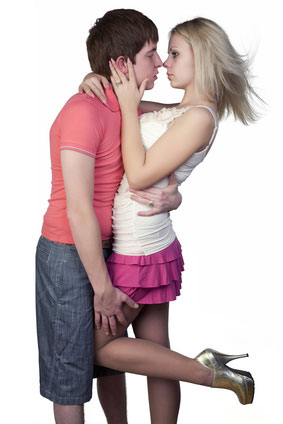 We don't talk much on here about how to kiss a girl, typically because we're more focused on helping you to get girls in bed - why spend much time on the appetizer when you can skip right to the main event?
But even if you're working to turn yourself into the kind of irresistible man a woman simply can't say "no" too, it's still worth putting some time into bringing up your kissing technique. Why? Because it's one of those small edges that fold into the big picture that is you, and the impression you make on girls.

In other words, being a talented kisser makes you better able to achieve the kind of results you really want with women: namely, hot, steamy liaisons with beautiful girls you really dig.

Even if you simply run through a seduction quickly with a woman, and then plant a mind-blowing kiss on her, it still helps:
It helps remove any last minute resistance you might run into prior to intimacy,

It helps her switch off her logical mind and be there in the moment,

And it helps her realize that yes, you are exactly the kind of charming, seductive, sexy man she's always dreamed of meeting.
So on those notes, I want to address the reader from Slovenia who commented the following over on the article on how to get a phone number:

"

I've read around 95% of your articles and let's say trained myself to an intermediate level... or something more than a pure begginer lets say.
Tnx to you again ;)

Still I have problems when it comes to Physical Escalation... but not problems with getting laid. I have serious problems with the transition from conversation to kissing. Once the kissing is on I have very few problems with bed magic.

I have actually never read any insight that would break down how to get closer and closer, when/how to start putting my arm around or something, hug her, kiss her on her cheeks or I don't fkin know... My question would sound like this:

HOW to get to kissing part if you do everything wright?

I have serious problems with this transition. And I angry even more because I know I would have gotten laid so many times If I had only mastered this part... And I will sooner or latter.

"
And he's right. That's a tough transition, from conversation to kissing and being physical together, and for a lot of guys it can be one of the most challenging things to learn. Transitions in general are pretty tough stuff, and you'll find that most of your obstacles as you improve with women and dating come when you find yourself struggling to transition from one phase of an interaction to the next.
So let me give you an article on how to kiss a girl that'll help you navigate this transition a lot more smoothly... a lot more naturally... and as a bonus, teach you exactly how to lay one on her that she'll remember for a long, long time.