"I've got a question for you."
The cute older waitress smiles at me expectantly.
"Yes?"
"You see those three girls sitting at the table over there?"
She follows my eyes, sees the girl, and then nods at me.
"What do you think would happen if I went over there and said hi. Would that be weird?"
She smiles, giggles, and responds:
"No, I think that would be really awesome of you actually. Not a lot of men would do that."
I smile. I don't need her permission, but I'm curious. I continue,
"What do you think I should say?"
She thinks for a moment and laughs,
"I don't know! I guess just introduce yourself or... yeah, I'm not sure!"
I smile again. I know exactly what I'm going to say.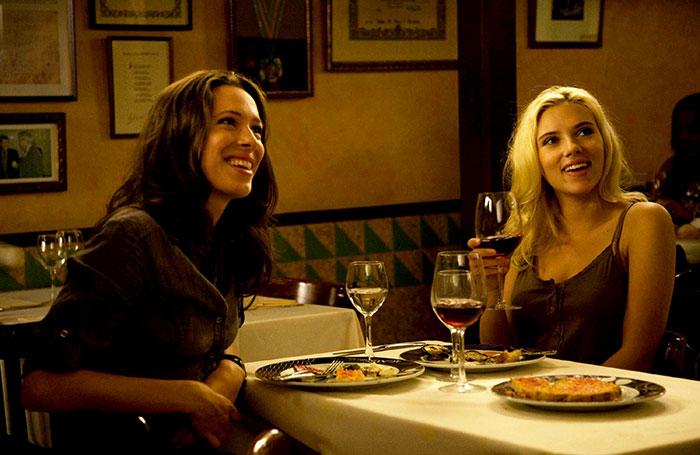 Ever see the film Vicki Cristina Barcelona? If not, stop reading and go watch it. In my favorite scene, the sultry Spaniard Juan Antonio exchanges slews of sexy glances with the adventurous and flirty Cristina. All the while, Cristina's uptight and reserved friend Vicki admonishes Cristina's flirty behavior and flawlessly performs the role of a cautious and boring upper-middle class woman.
Recognizing Cristina's overly obvious eye-fucking, Juan strolls over to their table. He looks lazily from one girl to the other, and then rests his eyes on Cristina and simply asks,
"American?"
His intonation barely registers as a question and is devoid of all fucks, drawing them both into his world. And despite some protest, he convinces them both to fly with him to Oviedo and spend the weekend with him. And, yes, he eventually smashes both of them.
I had to try it out myself. Not only did Juan's bravado stir my Latin blood, but once I consider approaching a girl, very few reasons can stop me.
After paying my bill, I tell the waitress to wish me luck and walk over to the girls.
They all look up at me expectantly. I pause for an extra second, because why not, and then say simply, to no girl in particular,
"You from here?"