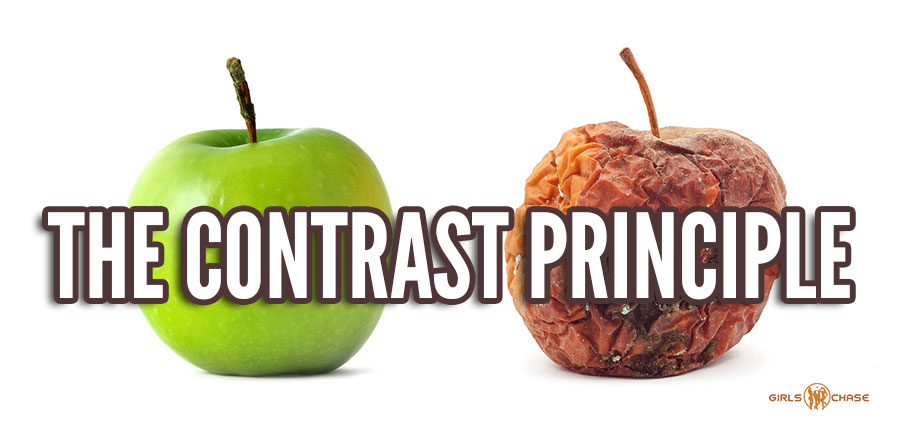 The contrast principle allows you to guide people to the choice you want them to make with the use of a powerful psychological feature: contrast.
On my article about fun ways to use reverse psychology, a reader named 'America's Ass' asks:
Hey Chase, I loved this article! Would you mind doing one on the "contrast principle". It seems to be a great tool in fields like sales, negotiation and persuasion in general. Looking forward to your wisdom on how one could use this in a courtship scenario. Aufwiedersehen!
What is the contrast principle America's Ass is referring to?
It is the idea we do not judge things in absolutes.
Rather, we contrast one thing against something else.
When you say "This pastry is delicious," you really mean "This pastry is delicious contrasted against other pastries I've had." When you say "That person is a jerk," you really mean "That person is a jerk contrasted against the other people around me usually."
There are many ways you can see the contrast principle in life:
The Hot Girl (Guy) in the Room Effect: everyone's been stuck in a classroom or office space where another person present is the most attractive around. Maybe you developed a big crush on this person over a few weeks or months. But when one day you saw this person outside class/the office, out in the real world, next to all the other people in public, suddenly that person was rather plain. How did this individual look so good in class or the office, yet so plain in public? Because, contrasted against your (few... or zero) other romantic options in the classroom/office, this person was the best, and the contrast principle inflated her (or his) attractiveness. Out in the real world, where there are many more options to choose from, some of them much more attractive than the classroom/office hottie, this person becomes pretty plain in contrast.

Fruit Sweetness. If you eat a lot of cakes, cookies, candies, soda, and ice cream, when you bite into a fruit, it's not that sweet, and it may not be that enjoyable or rewarding. The reason why is because fruits use sugar to make themselves yummier. But cakes, cookies, candies, soda, and ice cream have far more sugar packed into them than fruit does, and if you regularly eat them, it will seem like the sugar content of fruit is not that high in contrast. Yet, if you take a break from confections, and cut the cakes, cookies, candies, soda, and ice cream out of your diet, within a month or so fruits begin to seem much sweeter, and become an enjoyable dessert to have after a meal. Because you no longer contrast them against foods much sweeter than them, fruits now seem like the sweetest thing in the world to you.

Good vs. Bad Interviewees. If a job interviewer interviews a candidate who seems like a bad candidate for the role, the next candidate the interviewer speaks with (unless that candidate is even worse) will seem better than he otherwise would have in contrast. On the other hand, if the interviewer interviews a great candidate who really blows his socks off, the next candidate, even if that candidate is objectively pretty good, will seem much worse in contrast (unless the candidate is actually better than the first one). This works the same way on the interviewee side when interviewing for jobs. Interview with a place that leaves you saying "I would never want to work there!" and the next place will seem like the Promised Land in contrast. However, interview with a place where you conclude you would definitely like to work, and the next company you interview at will seem like a much bigger disappointment than it would've seemed had you interviewed at it first.
The two examples we just covered with people are somewhat outside your control (the fruit sweetness example, however, is 100% within your control). You can't completely control whether you are the most attractive member of your sex in a given room (though you can dress better, improve your posture, and do other things to make you a more attractive option). And you can't control how good or bad the interviewee is before you (though you can make yourself as good an interviewee as possible, to hopefully stand out in positive contrast to whomever came before).
So below, I'll give you a handful of ways you can use the contrast principle to actively influence the way other people see you... and, in turn, influence the results you get, both socially and romantically.