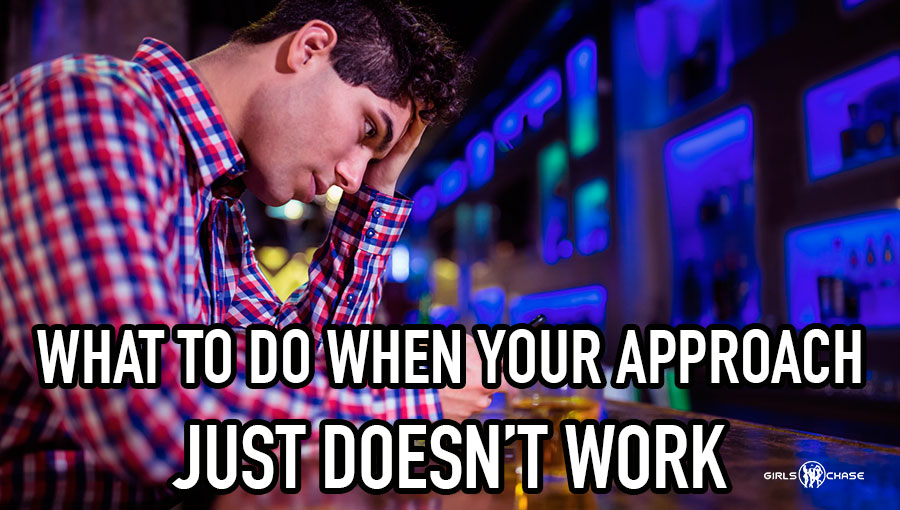 What do you do if you try to improve with women, but nothing seems to work? There are 8 reasons this happens – and you can beat them all.

Girls Chase has been around for almost nine years. We've collected hundreds of case studies, success stories, and testimonials over the years, both solicited and not, from guys about all the wild successes they've had with girls after finding this site. Our Field Reports board on the Girls Chase forums is a testament in its own right – just go through and read all the (probably thousands now) lay reports on the boards. But sometimes, guys struggle.
Kalyan, longtime reader (and coaching student of Hector Castillo's) writes:
"Hello,

This is Kalyan, longtime GC fan, and I have a small issue. I am a rather good-looking guy, I've got some of my vibe as a man down and I don't take shit from people. I have good style and I am not afraid to walk up to anyone.

I'm taking coaching from Hector and there are a bunch of things we're working on (I'm good but not perfect!), but there is something which is sort of discouraging me.

Over the past 2 months I did around 150 approaches. I'd set goals and go at them. And typically I'd use direct openers. However, out of these 150 approaches (mostly day game), I was able to get 8 dates or so, and only like 4 make-outs (2 have been same night pulls).

Many girls would smile at me when I asked for their numbers and give these happily, only not to reply to my first text. This happened like 60 times. Other times I get "I have a boyfriend". I would be frustrated at this, but when I go out, it's a new day, I don't carry it with me.


Now, most of the dates I got were girls who weren't really sexually interested in me, which suggests that the girls who are interested in me sexually rejected me for not being sexual, so I have to be sexual. Got it, working on it. But my point is, it really doesn't make sense to do such a huge number of approaches and not get any result at all – the sheer volume should be enough. I'm not saying that I "deserve" more; I know we need to improve, but something doesn't add up here.

So I was thinking of:

– an article about "what it means when all your approaches don't end in the bedroom" – or something similar


– advice or relevant articles on this subject (I'll also cover this with hector).

Thanks"
Kalyan's not the only one I've heard from recently about problems or frustrations. We've had guys both on the forums and who've left comments or emailed in recently to say they've been trying to use the material here and just aren't able to get it to work. Some of these guys have been at it a few months; some of them say they have tried for years.
So let's talk about what to do when things aren't working the way you want them to work, expect them to work, or hoped they would work. This post is for the guys at risk of being left behind. The ones who've studied, labored, and sweated it out, but failed so far to achieve the results they want.
This article you've opened up is 12,000 words long. That makes it one of the five longest essays on Girls Chase as of writing (there are over 1500 articles on this website). It took me six hours to write, and another hour and a half to edit and proofread. I wrote it for two reasons: the first is because we need an article on here to be able to point guys to when they're struggling. The second is because, while I cannot personally ensure every guy who comes here is going to succeed, I don't want anybody failing who truly wants this. If you're putting the work in, I want you to win. I want you to clear any hurdles and get the brass ring.

I can't promise you this article will turn things around for you. Much of that is going to be up to you. If you and I knew each other in person, and I had enough time to spend with you, there's a fair chance I could put you on my back and carry you to success. Yet there are tens of thousands of men who'd like me to do that for them, to only one me... and the one me there is is very busy. The best I can do at this point is outline the common problems, lay them all out for you, and hope that when you see them laid out here, some light bulbs go off for you, and the gears in your head start to turn again.
So let me do my best to shine more light on the pitfalls for those guys who are trying to climb their ways out.
Anyway, no further ado. Let's dive in.