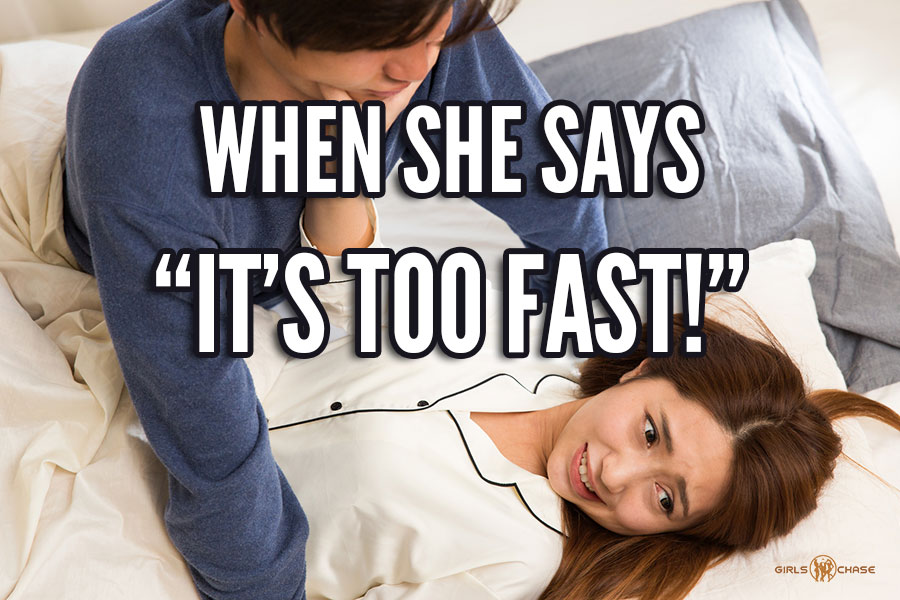 You tried to take her to bed, only for her to tell you "It's too fast for me." Your solution: 5 options that can smooth things out and get her to stay.
You ran the courtship (up until now) to perfection. Sparks flew when you talked to her. She laughed at your jokes (and you were wittier than usual). You remembered to touch, and touched her well. You took the lead and led her home.
Everything went great -- till a moment ago. Then as you tried to kiss her, she distanced herself from you. She told you "It's too fast for me."
You tried to persist; she said "I think I should go."
What do you do? Deep within your gut, you know if she leaves, she's gone. Your lizard brain knows what happens when you come this close then fail to close the deal. Yet you also freeze up with fear: you live in a paranoid feminist society. Many women now view male persistence as all but analogous to assault. The last thing you want to be is pushy... especially while alone with a woman you're only just getting to know.
Must you surrender? Must you let her go... say goodbye to a happy coupling never to be? Cast her into the wilderness to find a man less desirable than you, less wonderful than you, who will please her less than you?
Seems like a tragedy, doesn't it? It shouldn't have to end on so ignominious a turn.
And while there's no 100% way to change a girl's mind as she's on her way out, there are a few things you can try. But first you must understand why, when things had gone so well to that point, she suddenly balked.