The #1 thing men ask me when it comes to meeting girls is, "I don't know what to say! What should I say to get a girl intrigued enough to even want to have an interaction with me?!"
When it comes to attracting a woman, you may be familiar with the phrase, "It's not so much what you say, but more how you say it that matters."
This is why I attempt to focus on the "how" (read: "fundamental" behaviors) and "why" (read: "fundamental" beliefs and strategies) of communication and attraction, albeit sometimes the concepts may seem rather abstract.
Some of the ideas I share start off very abstract in the beginning, and over time become more concrete, while other concepts start off very concrete and then become more abstract over time.
On this note, to prepare us for what we are about to learn today, let's quickly review what we've learned so far:
We hold the moral-high ground so there's no need to feel ashamed of approaching a woman who attracts our attention (Creep-Shame Culture). No (eligible) woman wakes up thinking, "I don't want to get swept off my feet today", so there's no harm in making (inevitable) mistakes when attempting to do this very thing with a woman to whom you are attracted.

Discovering the answer to 3 simple questions (The 4 Types of Women) gives us an effective destination towards which to guide the interaction. Obviously the first step in getting somewhere is knowing where to go!

An ounce of prevention is worth a pound of cure, so by focusing on our fundamentals and essentials (in regards to voice, eye contact, body language, etc.) the occasions when a woman doesn't look at us will become less frequent. We understand why it occurs, as well as how to handle the situation (Looking at Women, and Getting Them to Look Back) by appealing to her other senses (besides just her sense of sight) in order to successfully gain her attention.
Now that we have all those abstract ideas internalized, let's focus on something more concrete and fun: learning EXACTLY WHAT TO SAY to a girl when you first approach her!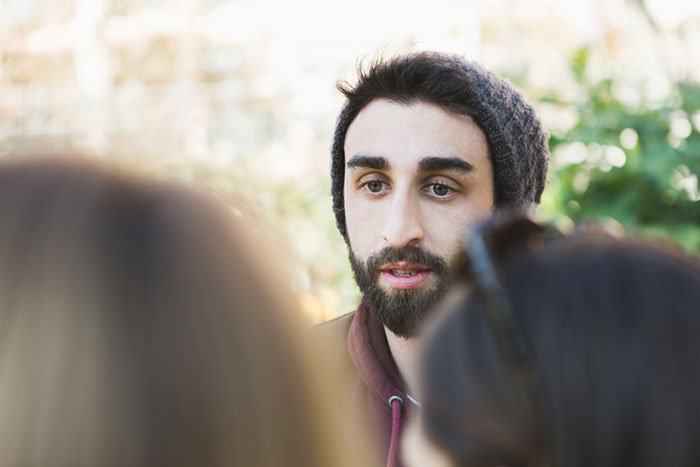 Today is Part One of my Basic Conversation Outline series. In this article you are going to:
Discover why building a conversation outline is important to your success

Acquire a conversation starter you can use right now

Learn how to customize it to fit any situation you happen to find yourself in
Let's get right to it!