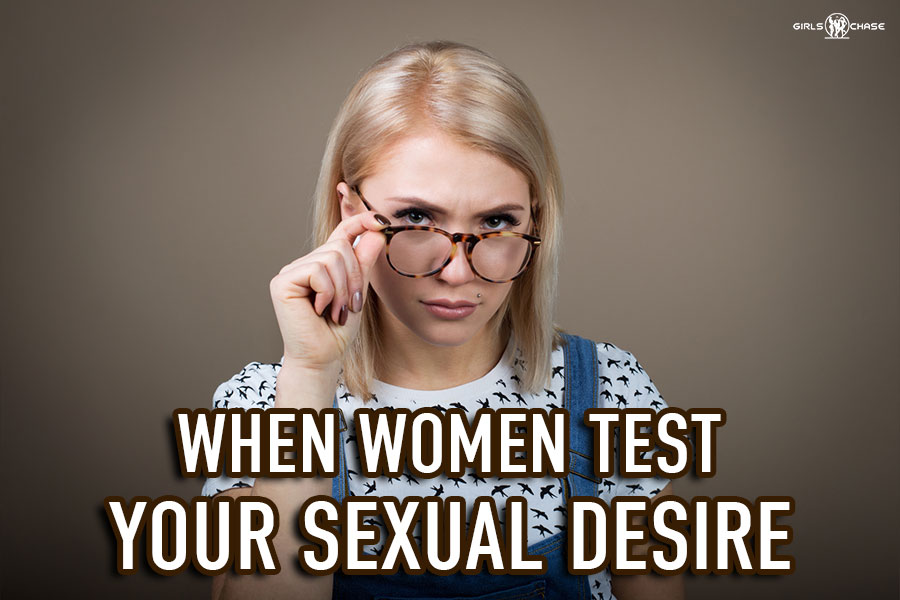 If you show sexual desire toward a girl you just met, she'll throw tests your way. If you pass with flying colors, she might get excited to have sex with you.
In my last article, we covered why it's important to show aggressive desire to women. Too few men are doing this properly, so now you can – and should – be one of the exceptions.
What I've observed is that overall, guys have regressed socially. A friend and I went to a New Year's Eve party in San Diego, and we didn't see any men approach women in a 1,000+ person party… until around 1:00 am when every single guy was needily – and horribly – approaching every single woman they could. They got rejected after 5 minutes or less every time. This happened over and over throughout the venue.
By 1:30 am the walls put up by every single woman in that venue were sky high – even a good approach wouldn't be entertained, unless value had been built earlier in the night when the opportunity was there. So, it's always better to be the exception to the rule.
However, being the exception also means women will test for authenticity harder, faster, and stronger.
"I've seen it all."
Have you ever heard this from women? I have – it's funny when they say this because they already know all the typical emotions of a guy if they've had enough experience (and if they've been screwed over by men enough times). Despite this, you can still entertain women with your antics as long as you rebuff their tests, stay, and maintain a fun and sexy frame.
"I know exactly what you guys want."
This is another classic test. Last time I heard it, I looked at her straight in the eye with a boyish grin and smiled as though I was enjoying myself, which I was. After a short silence, I said, "So what? Have you also seen when guys do this?" And I lightly grabbed and squeezed her ass, in a way that no one else around us could see.
"Stop!"
She pulled away a little bit, laughed and smiled at me playfully while she said it – clearly she was annoyed, but she was having fun, too. I smiled and went right back to talking about something else. We cooled off for a little while, but she came right back and locked hands with me after that. That was a first date, and we had great sex that night.
Since I recognized her tests and signals, and passed with flying colors, I knew I'd be going home with this girl, and it was fine to do it. I wouldn't recommend it if you're not absolutely sure that a girl sexually desires you. For my style, it was great – playful, fun, sexual banter. She said something that I recognized that she was testing me on, and my response was to be aggressively playful and show some sexual desire – which probably turned her on. She pulled away because we were in public – she wouldn't want our antics to be seen by anyone around her.
When you're trying to go for sex with a woman, she's going to test you. It's in her nature to do that. The real reason that women test men is that they're used to seeing all sorts of tricks by men – and no girl wants to feel like a guy is just trying to get his rocks off inside her like she's some random girl. No girl wants to feel like she's being masturbated into. Even if it's for one night, she still wants sex to be passionate and mind-blowing – she needs the man to give her his full attention, not just to treat her like a sex doll.
What a girl tests for is how strong a man's desire for her really is.