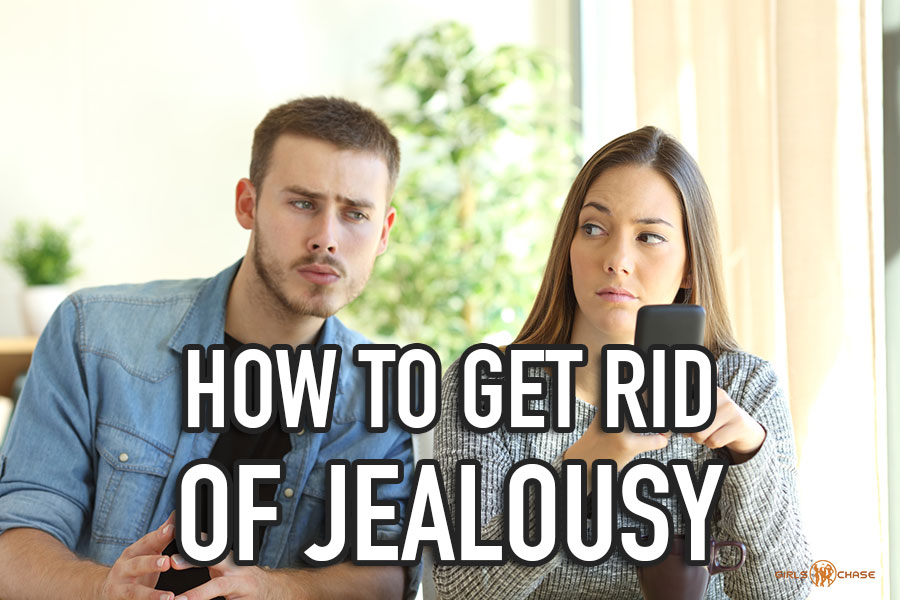 Jealousy is a green-eyed monster. But to overcome it, you must adjust both your focus, and steer your partner's worst behavior.

Sometimes you've got a girlfriend who's a bit of a flirt and keeps guys around her on a hook. Sometimes you've got a girlfriend who's a little oblivious (or at least, presents herself that way)... and keeps men around whose intentions with her are more than platonic, yet she acts like she doesn't see it. Sometimes she doesn't do any of that, but you're nervous anyway. Maybe a girl's burned you in the past, or you're just a little short on trust in general. Regardless the reason, you know jealousy's an issue for you... and it's time to rein it in a bit.
This article is not about how to prevent cheating. If you need that, read my article on it: "How to Prevent Cheating by Your Girlfriend." Nor is this article about how to screen for girls less likely to cause problems or cheat; for that, check out the list of resources in this article: "Her Raw Material or Your Relationship Skills: Which Matters More?"
Instead, this article is a reframe of normal male jealousy. For this article, we'll assume you're in a fairly healthy, fairly safe relationship where cheating is not that big of a real issue. If infidelity is a big issue, of course, you shouldn't read an article on how to get rid of jealousy. You should, rather, probably read about how to get rid of a troublesome partner and replace her with someone less heartache-inducing.
We're going to walk a bit of a fine line here. Because the goal is not to totally and completely erase jealousy altogether. Think of jealousy as a warning sign. It's your canary in the coalmine. If the canary flips out and starts to chirp and squawk every time somebody comes down the mine elevator, it's obviously not doing its job so well. But you don't want to completely take the canary out of the mine either; otherwise you'll receive no warning when the roof is about to collapse.
So, in this article, we will seek to get jealousy focused on only the right signals – and train it to ignore that which is not as much of a threat (or at least, that which is less of a threat).