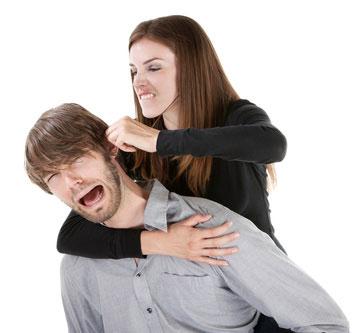 Have you ever noticed how women sometimes launch into relationship drama, picking a fight for no logical reason at all… and how even their arguments themselves are completely devoid of logic? Or how women sometimes try to boss you around, just to see how much they can get away with?
And with 80% of guys, a woman can get away with a LOT… until she completely owns him and walks all over his dignity. Yet he's grateful - hey, at least he has a real girlfriend that is not made of rubber! (Grab one of our programs, of course, and you won't have that problem).
But why do women do this? What's the deal with women and drama? We all know they don't want a weak guy… so why are they undermining his strength and masculinity? And what's the best way to deal with it?
You may have read on our blog before that women test men because they NEED to make sure their man is strong – so that's one reason why they put his masculinity to the fire. But if you give a girl too much rope, she'll hang you with it.
Another reason for drama, however, is one of the more insidious tricks of Mother Nature… women also need to gain a certain amount of relationship control over their men. If she's not in charge, he might leave once she's pregnant… she needs to be sure that she can access his resources, both for herself and for their offspring.
If she starts to hold TOO much control in the situation though, she will see that you're not strong enough and lose all interest in you. On the other hand, if you hold too much control, you will probably lose interest in her – that's the essence of the passion trap.
The secret is to strike the right balance… and to do that, you will sometimes have to disarm one of her tests.