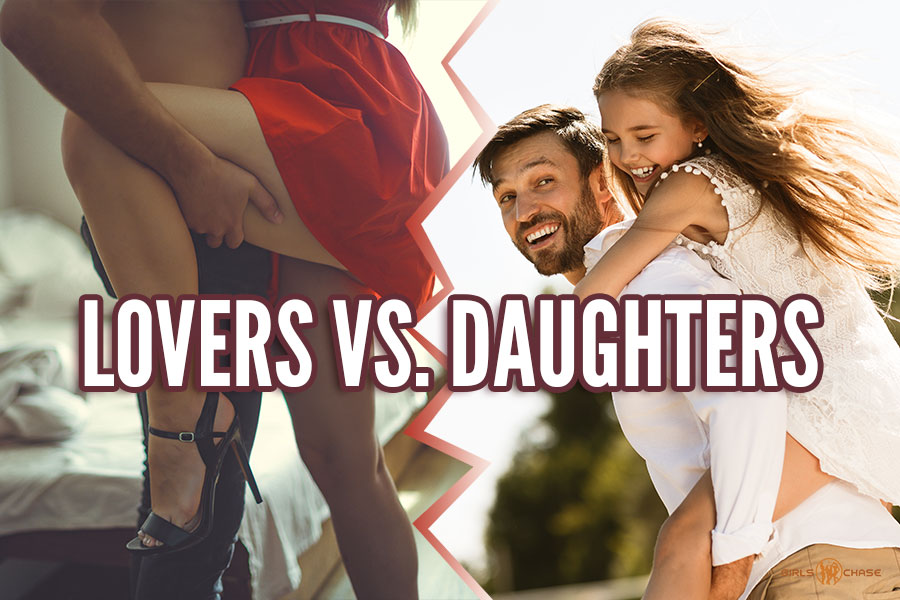 How can a seducer view sleeping with women as morally correct… while knowing he likely wouldn't want his daughter to sleep around? A deep dive into sexual morality.
On Alek's recent piece showcasing three new sex talk gambits, a reader posted the following provocative comment:
Hello Alek.

I've noticed something about Girls Chase and the seduction community at large.

There seems to be a lot of cognitive bias and intellectual dishonesty in this space Re: "Sluts".

See, in this space we teach that women are human beings just like men and should therefore be free to engage in sex freely w/o judgement.

Additionally, the concept of "high body count" is a non issue to us "lovers" unless seeking an LTR.

However, the facts show that "most" women are NOT in fact built for casual sex. Most high n count women either have personality disorders, histories of child abuse, poor impulse control or high sex drives.

For the most part women barter sex for relationships and constant hookups for the average chick without committment damages her psyche. That's why FWB chicks sometimes get jaded and tired of empty sex.

Here's a thought, if women like sex so much, why cant they hold down an FWB arrangemnt in perpetuity like men would prefer?

Chase has also countered the argument that older seducers do not corrupt younger girls by fucking them young 18/19yo) because women have agency and can think for themselves.

Yet we also go on to say that women are cute little smurfs who need guidance and direction. They aren't the best decision makers particularly when young.

In short all these axioms we have here seem to be rationalisations for "lovers" to be able to fuck girls without suffering from guilt.

And one way I can prove this is to request an article titled "A Letter to my 18yo Daughter" or sth along these lines giving her advice on how to manouver sexual relations as she goes off to start her first year in college.

Would you still tell your daughter that its okay to fuck a smooth talking guy on the first date if she feels the vibe?

Would you still tell her that body count is a social construct used by prudes and puritans? One nightstands are perfectly okay.

Would you still allow her to be fucked by older dudes (30s) while in her first year of college because older man + younger chick is a completely normal thing to do?

I find it hard hard to fully embody the lover archetype because it frequently clashes with the patriach archetype inside me who thinks he might have a daughter one day.

And I understand that this site does not give womens advice because it is a mens site for MEN but in this case saying that might be an easy cop out from addressing the disingenious nature of the things we teach here Re: Women and Sex

Is it possible to be a lover and a patriach without experiencing cognitive dissonance?

Trillion Dollar Question.
I love this question, and I'd love to answer it... so, while it may be addressed to Alek, I'd like to weigh in with my thoughts on it too.