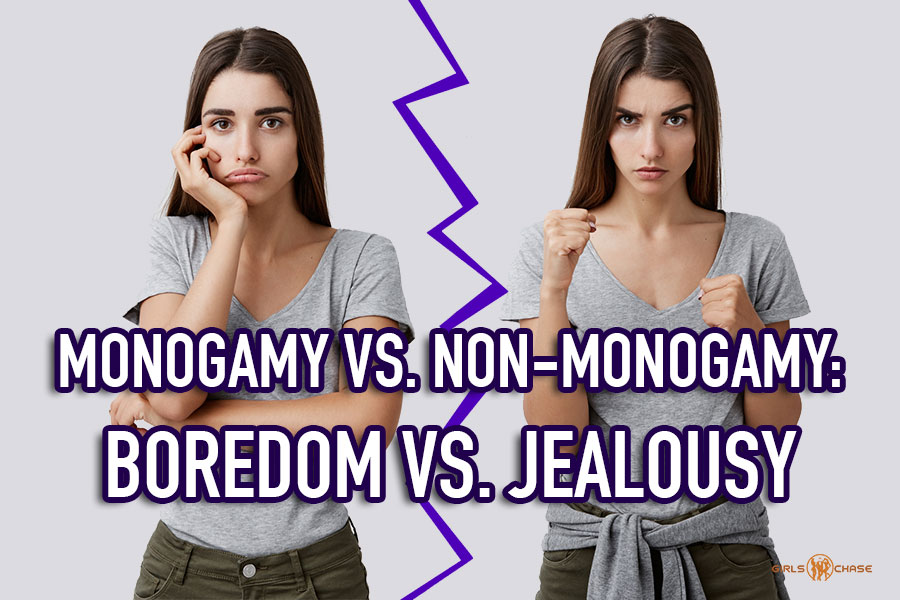 Monogamy and non-monogamy each face their own unique challenges. Women in monogamous relationships can grow bored; women in non-monogamous ones, jealous.

There are many different kinds of relationships available to the romantically gifted man. There's classical monogamy, of course. There are friends with benefits relationships and fuckbuddies. Open long-term relationships (polyamory). There's one-sided monogamy. Even pimp-ho and master-slave relationships, if you really want to explore the dark side (which we won't do here).
All these, more or less, fall into one of two categories: open (in which the partners may see other people) and exclusive (in which the partners don't – or at least aren't supposed to – see other people. Sometimes people are naughty though). Today's article explores the two primary challenges each style of relationship faces: the biggest challenges to the health of exclusive and non-exclusive romantic relationships.
I recently kicked off a series (the "How to Build a Harem" series) to convey what I've learned about non-monogamous relationships and steer guys who are interested in such relationships in the right direction. I realized that before I can delve into non-monogamy, I need to showcase it as a comparison to the conventional model we all know about. I want to highlight the distinctions between challenges in both systems (if you're in either one, you might see these in action in just a matter of months, but really they are inevitable).
No system is better than another. There are advantages and disadvantages to all flavors of relationship, but the challenges differ vastly by system. I'll lay these out to help you figure out which system is right for you while also creating the best outcome for yourself long term.