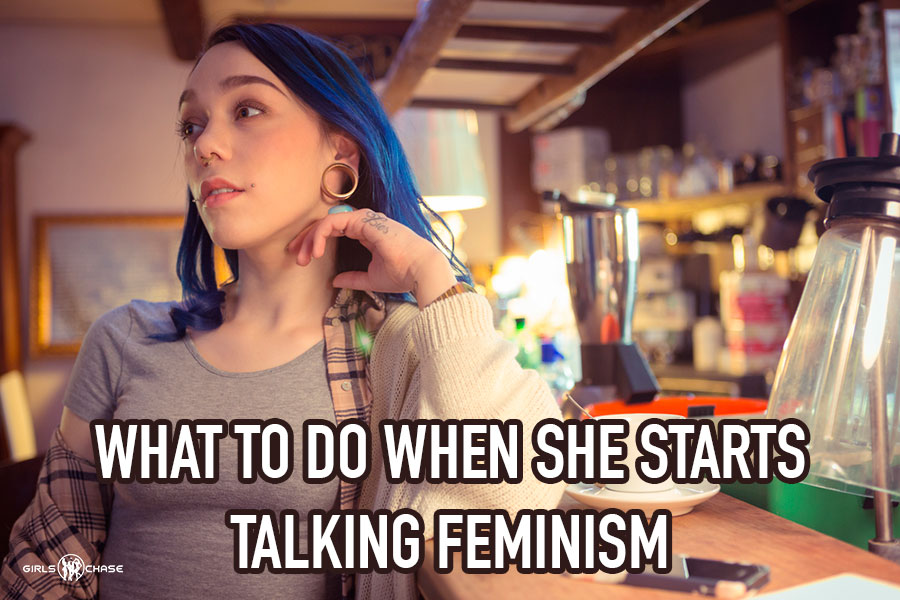 Girls bring up feminism sometimes at the bar or on dates. But address this wrong, and you either look weak, or get into a fight. What do you do?

It is not uncommon these days to read about feminism and gender related issues in mainstream and social media. It is indeed a hot subject; many politicians focus on gender issues, schools and universities have been affected by feminism, and society as a whole experiences both the benefits and the consequences of these ideals.
Regarding men's websites, we often see critics of feminism – especially on websites related to the "men's rights movement" (MRM) – who usually post about the negative effects feminism has on society and how it impacts men's lives.
These MRM posts are usually normative and take a political stance regarding the subject. This is not the purpose of this post.
I want to analyze how feminism – and the subject of feminism – can affect some of your interactions with women. In other words, what do you do if a girl starts giving you the feminist talk when you are trying to escalate the vibe? I want to discuss the direct, practical implications this has on the interaction while treating the normative status of the subject as irrelevant. In other words, I will leave the discussion regarding whether or not feminism per se is good or bad to somebody else (for now), and instead share a more descriptive and practical perspective on the subject.
The idea of this post is to cover why and how to deal with women bringing the gender debate into interactions. The perspective of this post is based on the basic assumption that you want to get her naked.
If you are like me and go out a lot, you will encounter women bringing this subject up, especially in the light of important political events, which tend to stir up such controversial subjects. Note that this post is focused on feminism and gender related questions because these tend to be the most commonly brought up political topics when interacting with women. However, each of the techniques covered here are valid for any controversial or loaded political, philosophical (only if it is normatively loaded), religious, or ethical subject. I believe all of these are topics to be avoided in seduction. You will see in this post that my focus is mostly geared toward changing or avoiding the subject, as these topics are simply not fruitful for seduction.
Also note that when I am referring to feminism, I am not just referring to the topic of "gender equality" (which is only one of the many topics of feminism – one that I tend to agree with); I'm speaking of the whole ideology behind the feminist world view.