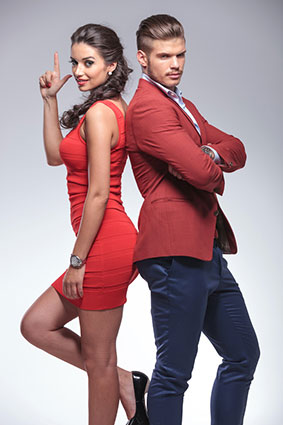 As I walk around the streets of my city, I'm usually struck by three things. The first is the beauty of nature. I think it's important to stop and appreciate the beautiful things that surround us all and to really remember that life, and the world, is more than just about our singular and, honestly, not very special existence. In a way, you have to stop and smell the roses.
The second thing I'm struck by is sexy women. Women who are dressed well, know how to flaunt their bodies, and are dripping with sexuality are most certainly drawing the attention of all of the men around them – yours truly included (though I am probably more subtle about it).
The third thing, believe it or not, is actually sexy men. I can really appreciate a stylish, confident man. When I see one, I often think to myself "He must get a lot of women, get a lot of attention from women, or at least should. And if he doesn't, he should be reading Girls Chase." But for the purposes of this post, I want to focus on the latter two things that strike me.
Which leads to the question: What actually is sexy? What makes a sexy man or a sexy woman? And more importantly, how do you become the one that applies to you? And it is very important that the world be filled with more sexy men and women. So making this transformation is what this post will be dedicated to.