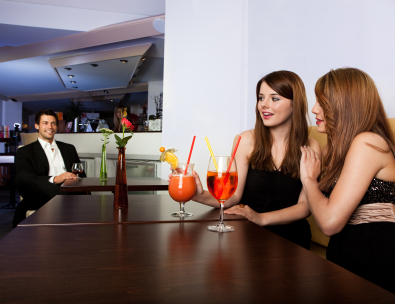 Discussing his night out at a club with a friend of mine, I noted that at one point a girl he liked was wanting to talk to him but he was playing it cool. His girl then went off talking to another guy, then disappeared for a while, and my friend was sitting there, fingers crossed, hoping it would work out. He eventually got to talking to this girl again and made out with her a bit later, and probably could've gotten together with her had a few things occurred differently, but one of the biggest things that stuck out to me was that period where my friend was left waiting and hoping.
It stuck out to me because I realized that was something I used to do a lot of, but now I never do at all. It wasn't a conscious decision; it's not one of those things you train for typically in the social arts. Actually, I don't think I've ever heard anyone talk about not waiting and hoping, come to think of it. It's always more about leading and being decisive, but those things are rarely explained with any degree of specificity.
I realize now though that it's very bad form, and that it is as well indicative of holes in your game. I used to get very impatient when I was waiting for women to do something, and impatience, I always used to think, is not a good thing to be feeling. This post is going to focus on not leaving seduction to chance, on recognizing and closing those holes you discover while playing the waiting game, and how to take action in an effective, non-needy way.