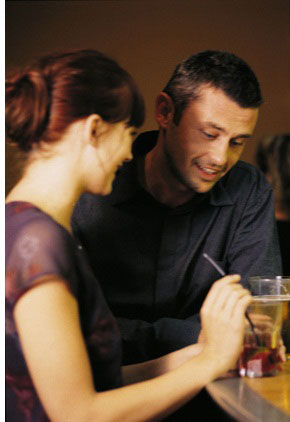 I'm kicking off a new weekly blog post series today, that's going to center on brief, informative articles focused on one specific technique you can use to achieve greater success with meeting and dating women. I'm calling this new series Tactics Tuesdays.
In today's edition -- our inaugural one -- I want to have a look at the technique of locking in.
When I first stumbled upon the pick up community, I heard the term "lock in" or the instruction to "get locked in" tossed about fairly often. And to me, it sounded silly and overmuch -- another vestige of the old indirect days of picking up girls, like opinion openers and routines.
Then I moved to San Diego, and acquired a new friend and wingman who was doing outstandingly with girls, and who I noticed made it a point of his game to always lock in. It was the first time I'd seen it done effectively.
About two years later in mid-2009, I partnered Girls Chase with a talented San Diego-based date coach named Mateo (who just launched his new website, Live the Knight Life; congrats to him!), and I observed that, again, here was a guy for whom locking in was a pretty essential part of his approach with women. And like my other pal, I noticed he was having a discernibly easier time more often than not on his initial approaches.
"Well, okay," I said to myself, "this looks like something I need to stop being so closed-minded about, and start doing."
So, lock in I did.