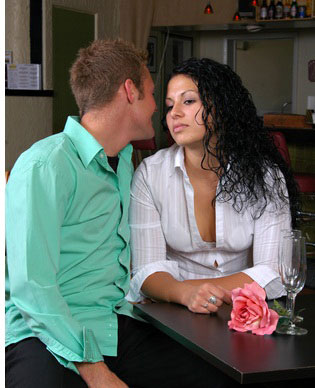 Ever heard of the term "social pressure" before? Ever stopped and considered how you're using it with the women you meet?
Well, here's a scary thought: what if I told you you were doing something with women right now that was completely wrong?
Like, so wrong it was costing you more girls than you'll ever possibly know?
In fact, what I'm going to do today is I'm really, honest to God, no two ways about it going to tell you about something that I'm confident 99.9% of guys reading this post today haven't even realized they're doing.
That something has to do with social pressure, and it's one you don't really hear about ever in pick up or the social arts. Why? Well, because it's incredibly subtle... and I think guys just aren't fully consciously aware of it.
Take a look at the image above and to the right: how do you think the guy feels with that girl? Think he feels like he needs to pursue her... to get her interested again... to win her back? That's her putting social pressure in action -- and it goes both ways. But no one talks about it.
Hence, this post; created so that I can tell you why social pressure is so incredibly, unbelievably, unavoidably important and pervasive in just about all of your interactions with women (men, too), and how precisely you can start using it to your advantage -- instead of getting burned by it, like most guys do. Rather than get burned, you can learn to be a social pressure pro - and apply and alleviate it like only the most socially skilled socialites and the most beautiful, sought-after men and women can.