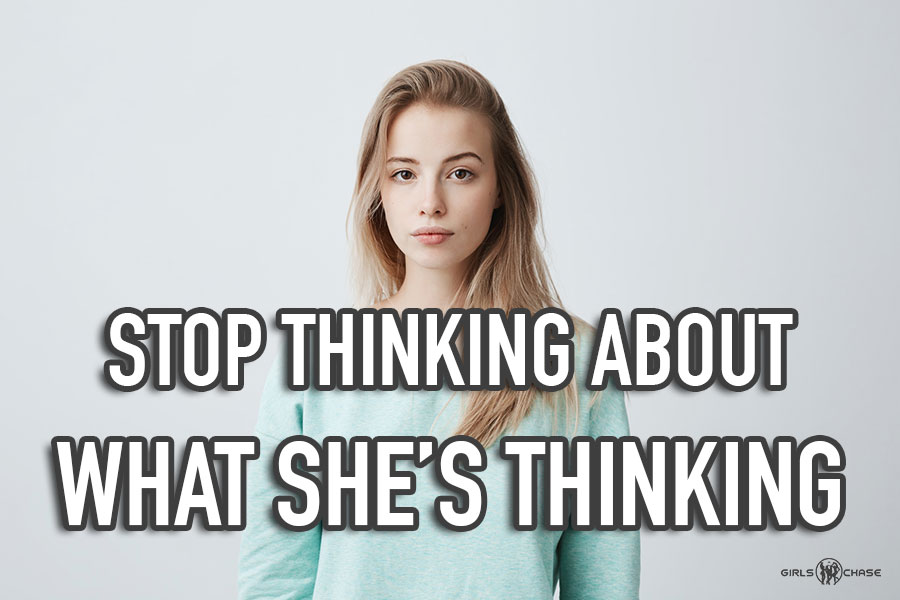 What is she thinking? Before you try to get inside her head, you must know this principle: taking action trumps reading minds.

We talk about female psychology a good deal on Girls Chase. At the meta level, it's supremely helpful to know how women tick and what goes on in their heads.
However, today, we're going to look at the granular level. The "what is this one individual girl thinking?" level. We'll start with part of a comment by Girls Chase reader SZ:
"

I was also hoping you could explain this interaction to me, I try to be a warm person, but people don't become warm, they're cold. I was at the gym, This girl I saw was nice to me and asked me how I was, I told her and asked her the same, I looked at her a few times while we worked out nothing too much, just to check her out, then when I was leaving I said bye to her and she had headphones in, but I felt she heard me, I waited there for a response, then she gave me this attitude way of saying bye, like she was too cool for me. It was like a look of "oh please, I'm too cool for you attitude". It threw me off because I didn't make it obvious I looked at her a few times, I didn't try to ask her out, I made sure she didn't see me look at her here and there. I was cool, so I don't understand the coyness. I was just being a man and looking at a girl, I don't know if she saw me check her out, so I don't know if that was the reason she acted like that.

"
So, a girl started off seemingly nice to him. Then ended up seemingly cool toward him. What happened, and what does it mean? Well...

It could be she wanted him to flirt with her more and ask her out, he didn't, and she was disappointed.

It could be she was just being polite earlier, and in truth didn't want to encourage him any more than she needed to.

It could be she started off her workout in a sociable mood, but by the end of it she was focused on music and exercise and 'tuned out' socially, so just seemed cold.
Maybe it's none of these, and it's something else entirely.
The thing is, with an individual woman, in an individual situation, you will not know what she is thinking.
You may have guesses. And sometimes your guesses will be correct. Sometimes they'll be wholly, completely, laughably wrong, though.
Which brings us to our primary point today: it doesn't matter what she's thinking right there, this very moment. Stop worrying about what she's thinking. Get focused on results, and stop chasing after rabbits.