61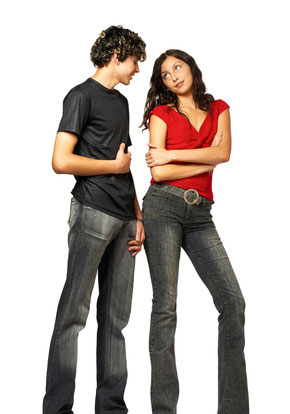 A little after I'd turned 14 years old, I asked a girl out for the first time. I walked up to her in front of the entire school, and flat out asked her to go to the school dance at the end of the year with me.
She was the prettiest, most popular girl in school, and she'd flirted with me and chased after me hard for close to a year -- in fact, she'd already asked me out about 6 months earlier (I'd been too scared to say "yes"). But by the time I finally asked her out, she'd largely given up on me -- the window had passed, and she'd moved on.
I didn't know about escalation windows at the time, though I guessed something like that might be the case -- and sure enough, she said "no," albeit in a very socially gracious way. She told me she wanted "to be friends first," which I knew meant we weren't going to the dance together.
The reason I share this story with you is because what I want to talk about with you in this post today is how to ask a girl out -- and my 14 year old self got it all wrong. I'd been planning to write a post on this for some time, but a reader just wrote in asking about this one specifically -- so, I'll put this one off no longer. He says:
"Man chase I really have been in a funk lately. I'm back in school and I feel like a social retard now lol! I need some advice, I really need help with asking girls out on dates and what that actually looks like you know? I'm reading your articles and a lot of it is making sense but closing the deal and getting dates is weird for me. I guess I really haven't actually asked a girl out on a proper date before my last GF I got with because I was able to escalate things with her fast."
Hey brother, I'm glad to oblige. In answer to your question, I present to you (and all the other cats out there with the same thing on their minds) this post, which will teach you -- emphatically, unequivocally, and without fluff, huff, or pomp of any kind -- how to ask a girl out... and always (or almost always, anyway!) get a "yes."