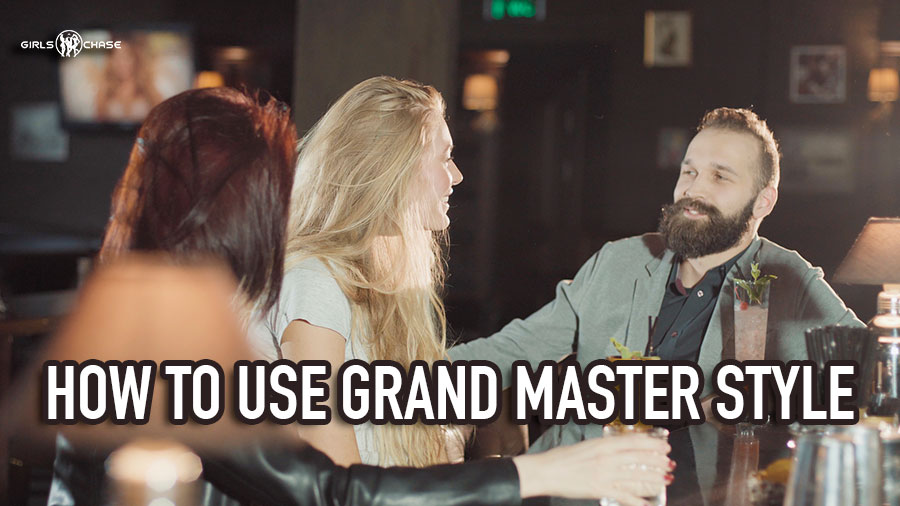 GM style: a crass, irreverent, and utterly hilarious way to make women horny, excited... and ready to hop in bed quick.

In 1999, an American expat in Paris named Nathan Szilard commented online about a talented natural seducer in a bar he kept running into:
"

There's that guy -- looks like an heroin addict, looks fortyish (but might be younger), dressed in black and/or like shit, skinny, tall, wrinkled, never smiles ... and gets laid like a rock star.

"
One day, at that bar – the same place Nathan always spied this guy – he chatted up a pair of girls. Suddenly, the guy showed up, flashed Nathan an amused grin, and swooped in to talk with the cuter of Nathan's two girls.
Two minutes in, the guy asked someone for a pen and paper and took the girl's phone number.
Five minutes in, Nathan excused himself to the washroom... and walked in on the guy and his girl making out with their hands all over each other.
Impressed and amazed, Nathan dubbed this guy the 'Grand Master'... or 'GM' for short. And over the next year or so, Nathan Szilard befriended and worked to decipher the game of this guy he dubbed 'GM'.
Note: If you are a beginner dater, probably don't try to use GM style. You risk awkward creepiness if you botch your delivery. Focus on less edgy stuff first. For the more advanced guys (or the still-curious beginners), read on...

One of Nathan's earliest analyses of GM style was this:

"Hm trying to recollect what I forgot to mention in my earlier post.

He makes it clear right away that he wants sex. He explained it to me. He does not really understand what is going on, me thinks.

He does not compliment.

I explained him the concept of neg hit; he disagreed ... YET HE DOES IT ALL THE TIME. Well, it's not NEGs, it's more like 'vannes' as I explained once, that's to say, taking the piss on her. So he fucked that German yesterday, and before that, made a few (light) jokes about Germans, then 'apologized' by hugging/kissing her.

He takes every opportunity to go kino [touch]. I've already mentioned that.

He claims that he does not act the same with every woman. I asked him about some place that's packed with model-types full-bitch-shielded types, how do you handle that I asked, and he said, "You don't get it, you don't do the same thing there, I'll explain you later."

He asks boring questions, name, job, then joke on it, and when I say JOKE, I mean FUCKING LAME jokes.

To a German: "you speak German really well!"
To a Japanese: "you speak Japanese really well!"
To an Italian: "you speak Italian really well!"

Original, heh? And on top of that he said it several times to the same girl. "You really speak German well! LOL "."
For a time, Grand Master style (or GM style), a method of strong sexual direct jokes, chase frames, and sexual intent, became one of the most popular methods in the pick up artist (PUA) community, alongside Mystery Method and Gunwitch Method.

These days it's largely forgotten.
But it shouldn't be. It's a different, fresh, and highly irreverent approach to bedding girls in a hurry – and the Grand Master still has lots to teach.