I couldn't wait to get my driver's license when I was 16, and before my 17th birthday I got my dream job as pizza delivery boy. On my second night of work in Mississauga, Ontario (a suburb of Toronto), I got fired.
I went to an address with a pizza. As I approached the door, I could hear the pounding bass and the hoots and hollers of the people inside. I knocked on the door, and when it opened, a bunch of happy young people burst out practically on top of me, followed closely by thick wafts of tobacco and weed.
A cute girl about 3 years my senior (19 – LOL) tried to pass me a beer over the shoulder of the dude who was facing me and counting the money for the extra large… It was cold outside, so I suggested they let me step inside while they figured out the money and I could drink the beer (Canada and the USA have some of the most draconian public drinking laws imaginable and, ironically but not surprisingly, a huge problem with public drinking).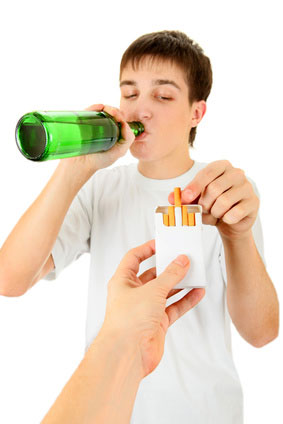 Someone passed me a joint. I found myself on a couch with a beer in one hand, a slice of pizza in the other, and the cute 19 year old on my knee giving me a "supertoke". One thing led to another, and I was shocked and appalled to see how angry my boss was the next night when I went back to the pizza parlour asking if I could work again. I was fired on the spot. Logically I understood why, but I still resented it; why couldn't I have fun AND have a job I love? Does life always have to be a tradeoff between doing what's best for you and doing what you love to do?
As I get older, I've started to become more aware of the value of self-control.
Self-control is simply the ability to resist urges when it's profitable for you to do so. It is the strength to put all things into priority and context. It would have taken only slightly more player skill to look at the host and the 19 year old girl and everyone else in that party in the eyes and tell them that I WOULD be back in 2 hours as soon as my shift was done, and if they would save me some booze and weed I would bring more pizza. How hard is that? I was already in with them. It was difficult because I had no self-control, no sense of timing, and no healthy view of context.
According to Napoleon Hill, author of the Think and Grow Rich, men learn self-control in one of two ways:
Their sex drive diminishes, usually with age but sometimes prematurely due to bad health or injury

They learn to sublimate their sex drive to higher thinking and purpose
Hill wasn't talking about abstinence, he was talking about the correct sequence of profitable action. In a nutshell, if you're feeling "frisky", Hill wants you to do productive work FIRST, before turning to the opposite sex. Consistently doing so, Hill says, means your results in all areas of life will skyrocket.
Underlying my desire to risk my job to be close to a woman was an extremely high sex drive. Well into my 40s now, I find it challenging to go a full 24 hours without an orgasm and ejaculation at least once a day. It was 3, 4, even 5 times a day, for DECADES.
Don't get me wrong – I was as unsuccessful with women as they come back when I was 16, but I was also very much a "natural", something I did not fully appreciate about myself until well into my 30s.