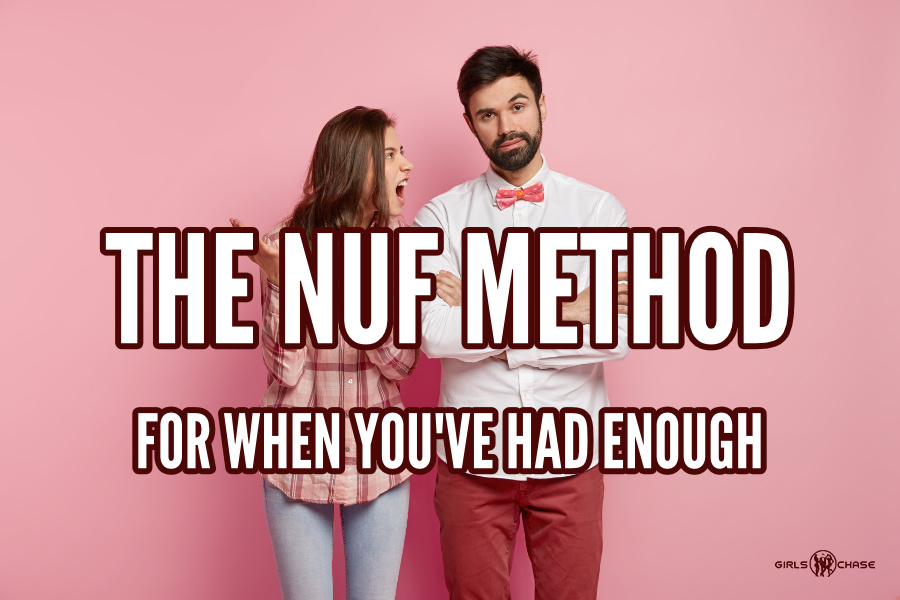 Not every argument's made in good faith. Some are bad faith. When you encounter bad faith arguments, use NUF to beat them.

If you've had an insecurely attached or personality disordered paramour, you've almost certainly run into repeater arguments. A repeater argument is when someone uses a finite number of arguments for her position, on repeat. As you attempt to discuss each argument, she shifts to a new argument before you can achieve resolution. Then she shifts again with the next argument. Eventually you find yourself back at her original argument, and the cycle repeats. Repeater arguments are the main form of bad faith argument we'll discuss today. They aren't the only type. Yet they are the foundation of bad faith argumentation; someone arguing in bad faith will ultimately fall back to repeaters.
When you first encounter any kind of bad faith argument, you'll feel like you're going crazy. "Wait, we already talked about this argument 20 minutes ago. I thought we addressed that and moved onto your next argument?" Or "I can't understand if this person doesn't grasp what I'm saying, or is so closed minded she refuses to even consider my view?"
Next, you start to feel drained: "You're not listening at all. You use the same arguments again and again. Each time I address one, you skip to the next. Later you circle back to your earlier arguments as if we never addressed them."
Finally you realize you're locked in a one-way conversation. You listen and respond to the other person, but she won't do you the same courtesy.
You'll start to wonder: "Is she forgetting what we covered before? Is she doing this on purpose? Is she some kind of automaton with programmed responses, incapable of reflective thought? What's going on exactly?"
The more you wonder about this, the more mental and emotional energy you sink into the argument. The more fatigued you become.
Repeater arguments can be effective at causing ego depletion (i.e., the gradual 'wearing down' of willpower/resistance). Used this way, they're often effective ways for the repeater to get what she wants.
Yet, once you know how these arguments work, you can beat them. And once you can beat them, they lose most of their power over you.