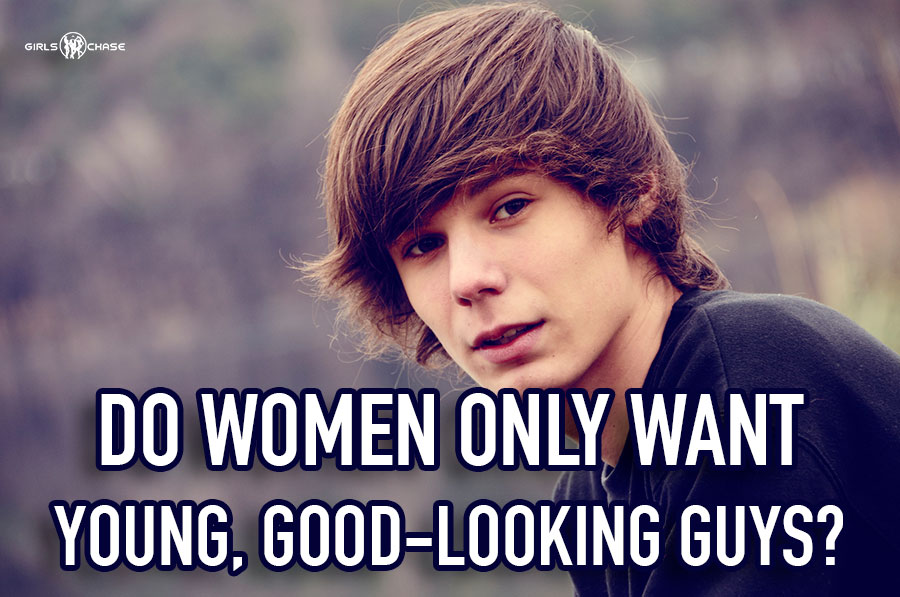 The most attractive thing to women is neither youth nor beauty. So why do so many guys think girls only want good-looking guys or young guys?

Okay, I want to talk about the "girls only date good-looking guys" or "girls only date young guys" thing. I have more intellectual articles against these positions and I'll share them with you in a moment. But intellectual arguments aren't always the best way to get the message across, especially when guys are deep in a certain viewpoint.
First let me share a comment from a reader of my "When Do You Get Too Old to Party or Meet Girls?" article from last week:
"

Keep deluding yourself that youll be more attractive to women as you get older. I have never heard a younger woman say Kevin Spacy or Sean Connery was "hot." Only older women. Women in the past had to settle down with older men because they didnt have the means of supporting themselves. Thats it. If she had the choice and the income theres no way she would choose him over a younger guy. Plus, do you think its right that older men had relationships and children with teenage girls? Its a pretty messed up system because a girl hasnt even lived her life, and you know if the girl could support herself theres no way she would go for that older man6. Girls go for older men because of convenience, not because of attraction.

"
To which I responded with a screen grab of a bunch of young chicks swooning over Old Man Connery on Yahoo Answers, plus a picture of Sean having a merry laugh: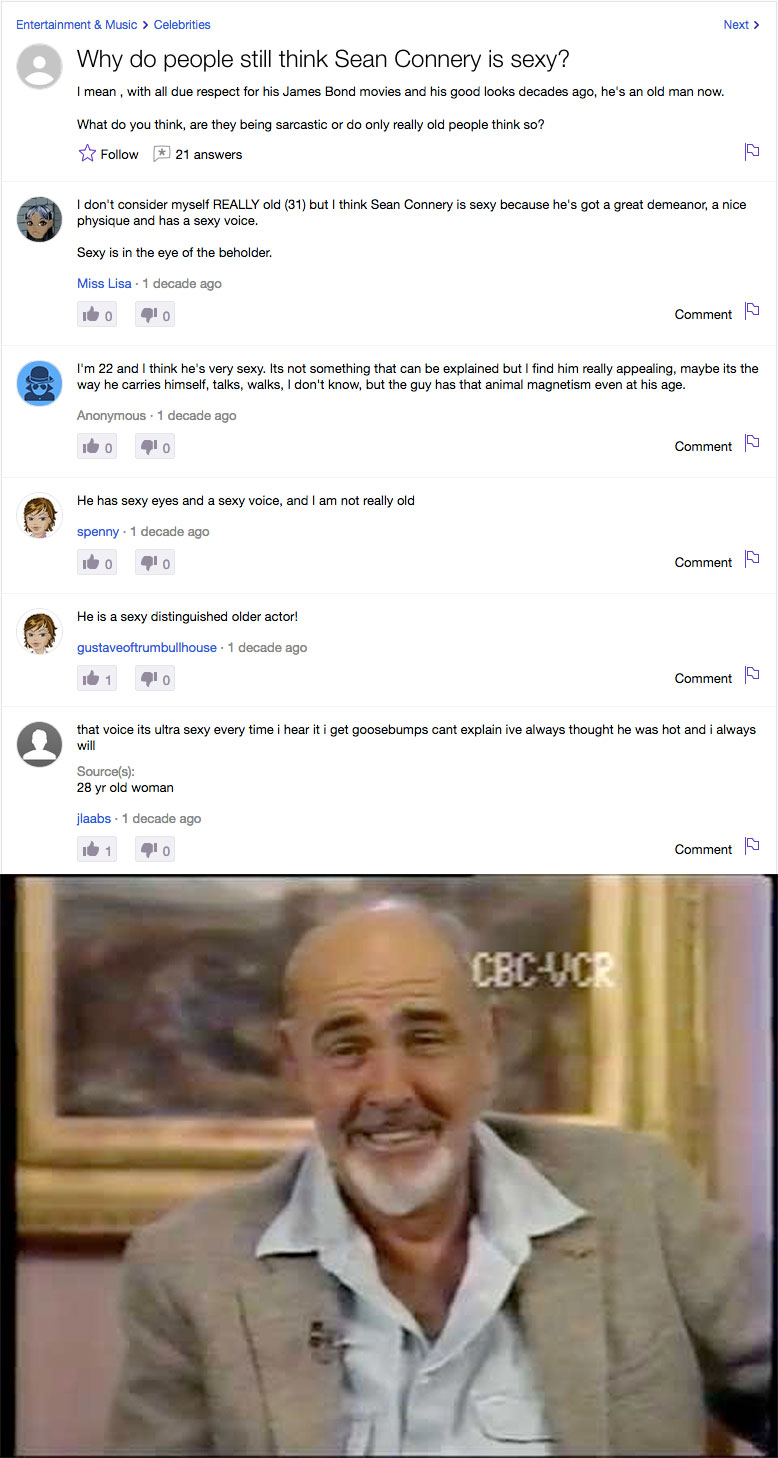 There are loads of men everywhere, including in the West, which is an environment more shifted in favor of younger men than anywhere else on Earth, who remain very attractive to younger women even into quite old age. And there are loads of men everywhere, including in the West, which is an environment more shifted in favor of good-looking men than anywhere else on Earth, who are very attractive to women despite plain or terrible faces. This is undeniable. The only way you can pretend these men don't exist is if you plug your ears and shut your eyes and make loud noises to yourself every time one of these guys crosses your path.
But this willful blindness/ignorance guys engage in about this subject runs deeper than just "I don't think that ever happens or if it does it must be super rare." It's actually about guys with zero or very little experience with women, who do not understand women, trying to tell men with lots of experience with women who understand women very well that actually those men have no idea what they are talking about and in fact women are actually some other way.
The guys who say stuff like this are never guys you would take woman advice from in the real world. From 30 feet away you can tell these guys don't do well with girls and don't understand them.
I'm not trying to pick on these guys. There are a lot of men who don't understand women, and it's always been that way historically. Women are hard to fathom. This entire website is dedicated to helping men who don't understand women come to have a better understanding of them.
But when you get guys who do not understand women trying to talk about how they know women so well and that actually all these things that are commonplace things that happen with women are in fact impossible and never happen, you get this weird bizarro world perspective on dating emanating from certain corners of the male sectors of the Internet.
And we need to talk about that.