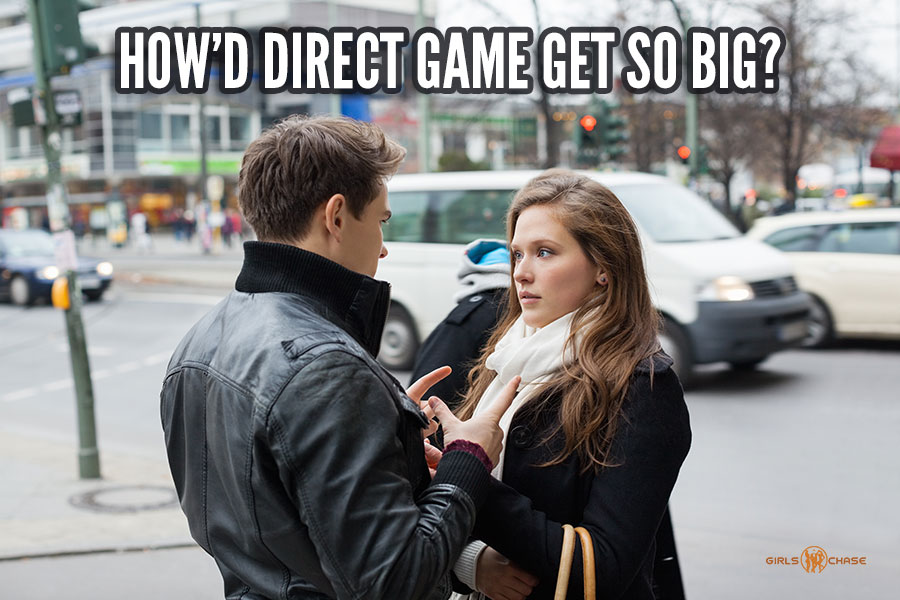 It seems like every guy runs direct game on the girls he meets these days. But how'd direct get to be so popular? It wasn't always so…
Hey guys.
So today I wanted to share some clarifications on a subject I have discussed in-depth in 2021: namely the whole "direct versus indirect game" subject.
If you have been following my posts over the past year, you should know by now that I am a strong believer in indirect game – namely the type of seduction where you do not reveal your cards (your interest) until she has shown some interest first.
This entails that you must keep her knowledge of your interest in her ambiguous until you manage to build some compliance (or call it "build attraction"). Once you have managed to do exactly that, you will get signs of interest in return, at which point you can reciprocate and show interest back. The amount of interest you show in return depends on how much interest she shows you; you more or less calibrate accordingly at all times.
There are forms of indirect game that are more passive (indirect) than others… yet in strong opposition comes this new trend of neo-direct game, which is all about expressing your interest in her right away. The cat is out of the bag – she knows you want her, and you've just got to try to make it happen by convincing her that you are a great potential lover.
Already there we can see how the frame is totally off!
She is now in power… since you are clearly the one chasing her.
She has a higher perceived sexual market value and therefore she gets to dictate the terms. Here she can set very high expectations in terms of her standards. This is how you end up facing highly inflated standards – or rather, that is when you become a guy who gets to deal with those high standards, since men who did not give her all that power will not be facing those high expectations because they never allowed the other party (her) to set them in the first place.
This is exactly what I discussed in my previous post. There I discussed how this neo-direct game, where you constantly show interest from A to Z without ever keeping your level of interest in her ambiguous, without ever showing any mixed signals, and sometimes without ever using compliance-building techniques… or if those were used, they were only used sparingly.
It is easy to conclude from my previous post that indirect game is the solution to the problems that stem from simping and dealing with women's inflated standards (which we saw only come fully into play when you allow her to express them by setting a frame that gives her the power to do so).
I wouldn't rush to such a conclusion though. Now, I have in the past been very harsh towards direct game. This is due to two reasons:
The surge of poorly done direct game or this overly direct form of direct game (neo-direct game) leading to cringe interactions between men and women. These cringe results led me to wanting to debunk it fully.

I personally still believe indirect game is better – that is… (and I may be biased here) because it gives you a better meet-to-lay ratio, since you will have a chance to get some girls you wouldn't get otherwise (that is, compared to using a non-indirect form of game: that is, direct game).
But this does not mean that direct game used the right way is necessarily bad. This may seem contradictory to things I have said about it in the past. But I need to do a mea culpa. Everything I said in those posts still holds true, in the sense that keeping your levels of interest in her ambiguous is the way to go because it gives you:
More compliance
Smoother interaction
A more solid frame – thus more control
All this still stands.
But this does not mean all direct forms of game contradict all these aspects.
This post is meant to give you guys a clarification on this issue.
In this post, I intend to discuss how this trend of neo-direct game came to be, going through the history of the seduction community. I want to tell you why and how direct game came to life and why and how it eventually turned into neo-direct game.
In my next post, I will pay homage to the good old school direct game – the one that truly worked. If you are a fan of direct game, you will love my next post.