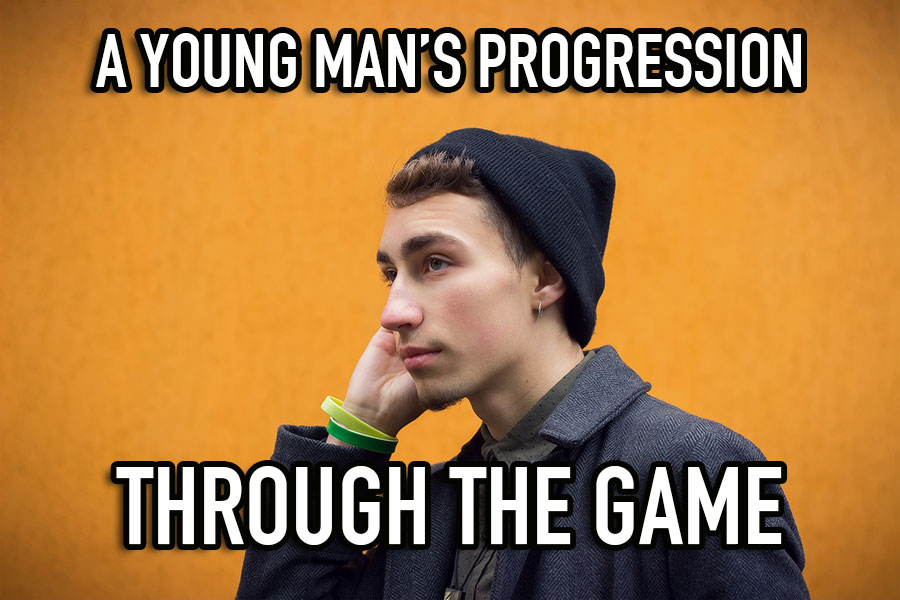 Follow the journey of a young man from shy and dateless, to improving with women, to living the dream… and what happens after.

Dan trudges off to his Thursday morning class, another long day in an endless sea of them ahead. The sole bright spot for him is the girl with brown hair and glasses. She will be there. She's always in his Thursday morning class.
When he gets there, he grabs a seat, then looks around, waiting for her to show up. She hasn't shown up yet. The class slowly fills. Some kid takes the empty seat to his left. Damn, he thinks. I hoped it'd stay empty until she gets here. Close to class start time, he sees the girl with brown hair and glasses walk in. He stares at her; her eyes search the room, looking for seats, then briefly meet his. He thinks he sees her smile, but she quickly looks down. She hurries off to a far corner of the room to take one of the few remaining empty seats.
All class, Dan thinks about her. He waits at the end of class, packing his books up slowly. He glances over toward her – it seems like she's packing up slowly too. At last, after most of the class has filtered out, Dan makes for the exit, and so does the girl with brown hair and glasses. He lets her get right in front of him. She doesn't look at him, but she glances down and wipes her hair back over one ear. He can't tell, but he thinks she might be smiling. He feels like he should say something – this is his chance! – but he doesn't know what to say. The both file out of the classroom; she heads off in one direction. Dan's headed the other. He slowly walks away from her.

He doesn't feel bad though. He feels even more certain she might like him now. And next class – he knows – will be the one he makes it happen in.
The semester passes this way. Many days the girl with brown hair and glasses doesn't notice him or give him any signs, and he thinks she's lost interest. Sometimes she gives him some little look, or plays with her hair while almost glancing in his direction, and he thinks she must like him still.
Once she sits two seats over from him, and he almost says something to her. He spends the entire class full of nerves, pushing himself to say something. In the end, he tells himself it'd be too awkward trying to talk over two seats – he'll wait for a better opportunity. Next class, he'll get a better opportunity.
As summer turns to autumn, then autumn to winter, the semester draws to a close. The fallen leaves on the ground are covered by a light dusting of snow. Finals are over, and it's time for the students to head home for the holidays.
"Maybe the girl with brown hair and glasses will be in one of my classes next semester," Dan tells himself.