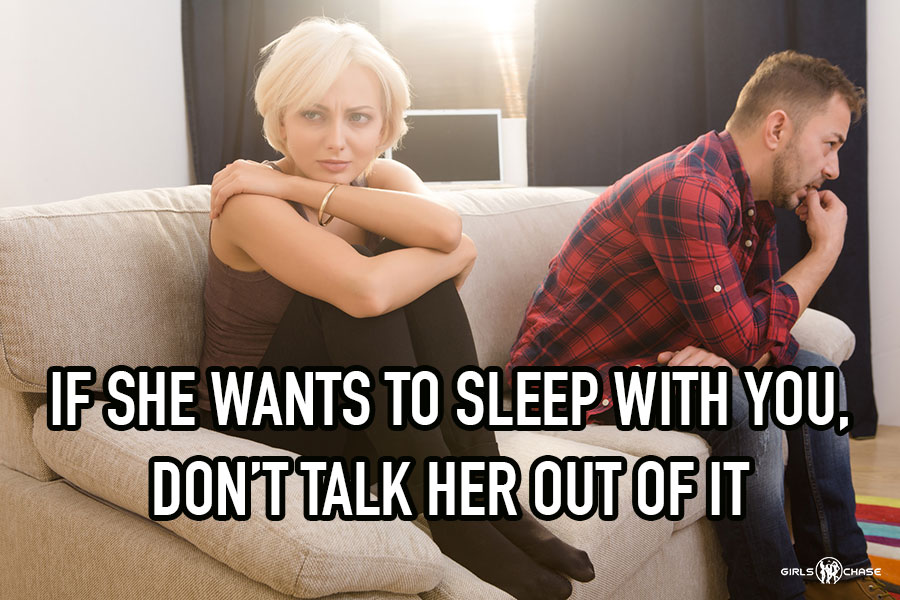 If she starts trying to convince herself to go with you or sleep with you, should you correct her if she says things about you that aren't true?

The inspiration for this post came from the exchange Davi shares of a scenario where he was just about to sleep with a girl he'd brought back home... Until he talked her out of it:
Girl: Look, I've got to go to work quite early in the morning...

Davi: Well, I'll take care of it, don't worry!

Girl: Oh yeah, you can take me with your car when you go to your regular work, right? Then, yeah I can stay.

Davi: I can call you an Uber. But no, I don't own a car, and it's just a student job, haha.

Girl: Really? Hmm... oh... mmm... then I think I should go home now.
At which point she left.
I've been here. I remember at one point a girl had asked me to swing by her friends' place so she could pick up her cell phone. Finally, both of us in my car, she agreed to go back to my place with me, and was talking about how she'd get home in the morning. Then I said, kind of thinking out loud, "Oh wait, we still need to get your phone from your friends," and she said oh yeah, I have to get that.
So, we drove to her friends' house, there was an after party going on there, she ended up wandering off and making out with some other guy she knew there for a while, while I stood around awkwardly having drinks and trying to act natural and talk with her friends, until at last the girl I'd come with passed out on a couch, and I gave up and went home alone.
Shouldn't have reminded her about the phone and just had her pick it up in the morning. Whoops.

All I had to do in that scenario – and all Davi had to do here – was keep my mouth shut.
I just couldn't help myself though. I had to talk her out of sleeping with me.