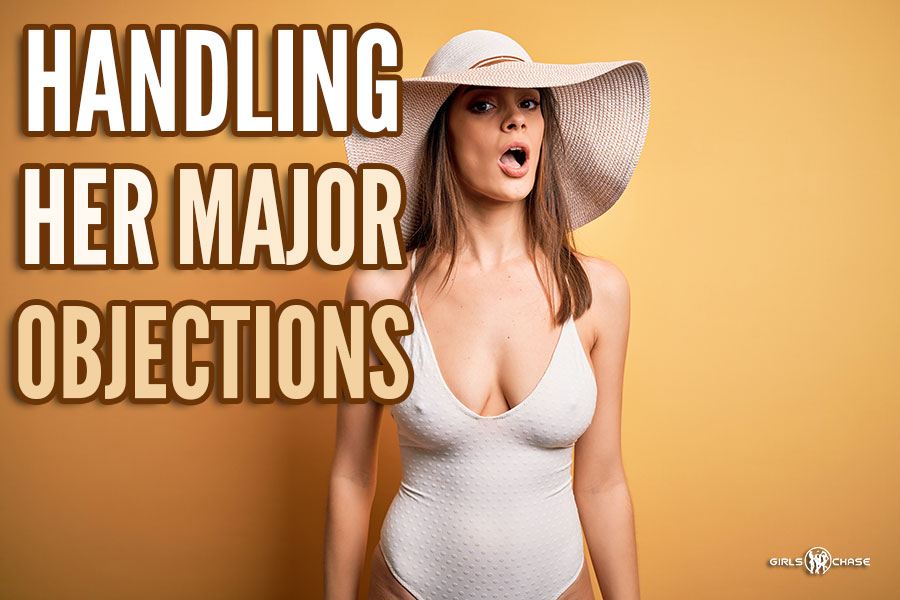 What should you do when a woman hits you with a strong objection? Do you give up? Let her go? Or could you… address that objection, in a strong, smart way?
Something a lot of guys are weak at is handling strong objections from women they like.
We can roughly break romantic objections down into several categories:
Token: otherwise known as 'weak protests'. You can typically ignore these altogether, or handle them any number of ways. These aren't serious protests, and she's more or less swayed to your way of seeing things already. You bring her close to kiss her, for instance, and she weakly protests, "But I'll get lipstick on you..."

Tentative: she might object; she isn't sure. She'll throw this objection out to see how you react. You're sneaking into somewhere off-limits with her, for example, and she whispers, "What if someone catches us?"

Standard: your run-of-the-mill objection. Not necessarily super hard, but not something you can always easily just brush aside either. Think "I don't go to guys' places on the first date" or "Shouldn't you date women closer to your own age?" There are already many guides on Girls Chase to dealing with standard objections (I'll link them up a little below). These aren't the subject of this post.

Strong: a firmly-held objection she's insistent on. You tell her, "Let's sit," and she says, "I told my friends I'd wait for them here." You invite her again and she just shakes her head and says, "I have to wait right here." You invite again and again she says, "I can't move from this spot, I promised I'd be here when they arrived." This kind of objection is our focus today.

Absolute: she walks away or blocks you. Absolutely nothing you can do when she can't hear you anymore!
Token you don't have to worry about, unless you're the most tentative beginner ever.
Tentative is easy to overcome with any kind of playful response or halfway conviction: "No one'll catch us, don't worry," or, "If anyone catches us I'll beat him up. Come on."
And absolute objections, well, nothing you can do there. You're not omnipotent. Can't talk to women who aren't around you and you have no way to contact. Women like this are just gone.
Standard and strong objections are the ones that trip a lot of guys up.
In today's article, we'll talk about handling strong.