Note from Chase: this is the full style consultation from Darius of SexyStyleForJoe.com for our winner of the "Styled for Summer" contest we ran from late June to early July. Darius has gone provided a full head-to-toe fashion breakdown for our winner here, in a post overflowing with juicy fashion tips.
If you're interested in a fashion consult with Darius yourself, I've included a link in the footer of the post you can find out more information about this via. And if you enjoy Darius's work, also be sure to see his Girls Chase article on summer fashion. Here's Darius.
---
Hey guys,
It's been a few weeks since the #StyledForSummer contest ended and before everything else I'd like to thank those who entered on Twitter! It was fascinating and quite challenging to share insights on how to help improve your personal style in 140 characters for, as you'll notice soon, I usually get quite "wordy" on the subject. But hopefully those quick tips didn't go to waste.
This is a follow-up article to the contest, and I'm very happy to say that the winner of #StyledForSummer decided to share his prize and gave permission to publish his consultation as an article here on Girls Chase.
Even though it's not exactly the same as getting a personal, in-depth analysis of your looks and how to improve them, I'm sure that every reader who's looking to improve his style will benefit from reading on (hint: guys of shorter stature, pay attention, there will be some gems for you here!).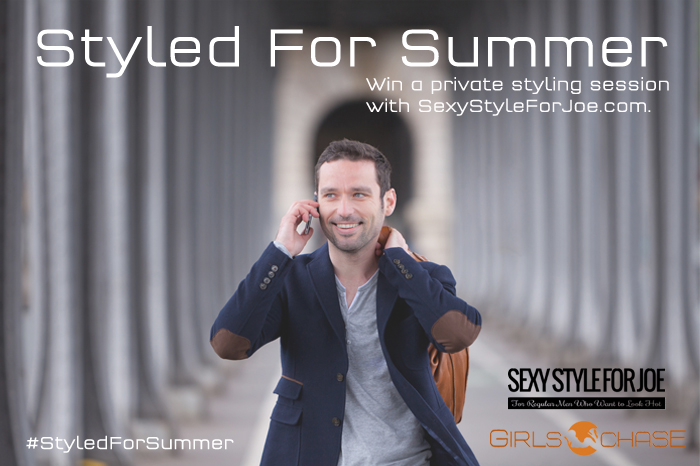 Before we begin, I'd like to explain what happens before the actual consultation so that everything makes more sense. A consultation starts with a short questionnaire to determine a person's style preferences, stronger points, weaknesses (we all have parts of our bodies we are proud of and aspects we'd rather not draw attention to), budget, and target audience.
This is one of the reasons why you'll see certain suggestions and recommendations, and why in this consultation, ironically, we focused more on autumn to spring looks than styles for summer.
Lastly, you'll notice that pictures are heavily cropped and kept in lower resolution. I am very grateful to the winner for agreeing to share his consultation, and I think it just makes sense to remove any identifying aspects that are not absolutely essential for readers to fully comprehend and learn from this article. By the way, if you find this article helpful, please say a big thank you to the winner!
And now, let's look at the consultation.