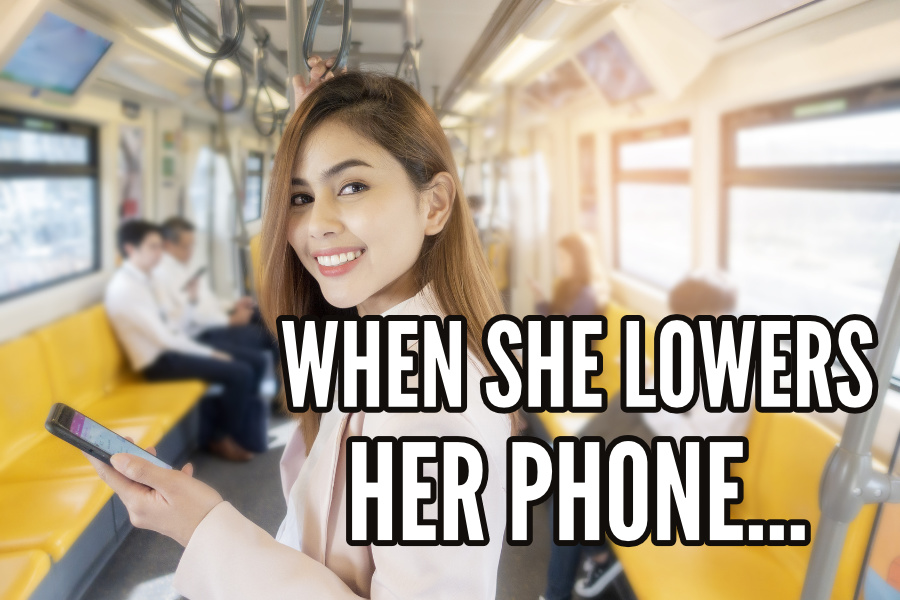 In a world where everyone's noses are glued to their phones, a woman lowering her phone around you can be a telling sign she likes you.

Ever since smart phones became ubiquitous, guys on seduction forums have had a selection of similar questions/complaints:
"Girls are too absorbed in their phones to approach!"
"How do I get girls to take their head phones out?"
"I can't get approach invitations anymore, women don't even look up now!"
Several nights ago I walked down the street and marveled to myself at how ubiquitous it was: men and women of all ages, young and old alike, totally entranced by their smart phones. Smart phones aren't some 'young hip thing' that all the kids are on and the old folks haven't clued into. Everyone is.
Every solo person I passed on the street had his nose glued to a phone, or, in a few cases, didn't, but was talking to someone via earphones or a Bluetooth headset instead.
Even in some of the groups I passed, some or all of the people would have their phones out in front of them as they talked and laughed to friends.
That might seem like a major approach inhibitor if you came up in the old days where people were more, shall we say, present in their environment. How can you approach a girl when she's so occupied already?
I actually quite like the global smart phone addiction, for two reasons:
It's a lot lower pressure to approach anywhere people have their phones out now (which is pretty much anywhere other than a dance floor these days), because bystanders are far more absorbed in their own cell phone adventures and pay even less attention to you

You will find out pretty quick if she is going to be willing to ditch her phone to talk to you, or not. Which is about as big an obvious proceed/don't proceed sign as you're going to get (this makes it simpler to weed out the uninterested gals, who quickly return to their phones, from the interested ones, who zero in on you, or at least linger away from their phones)
However, I want to highlight one specific quirk of behavior you'll see with women on phones when they like you.
This is a sign a girl likes you that is pretty obvious once you're aware of it. You've likely seen it a bunch already, and are subconsciously aware of it. Well, now we're going to make it conscious, so you can act on it as soon as you see it.
That sign is that when she's awaiting your approach or engagement, she will put her phone down or sometimes may (gasp) put it away.