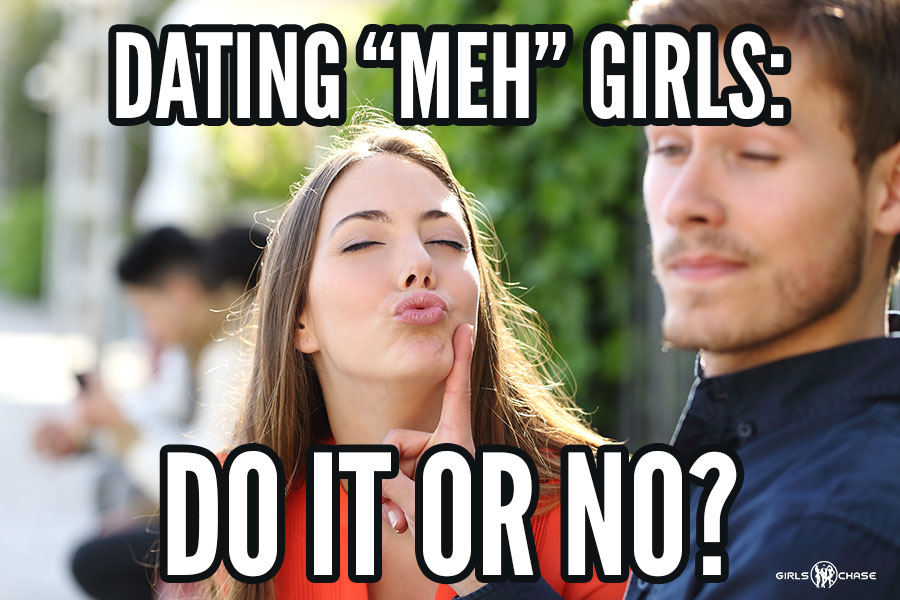 Dating girls who only mildly excite you can help you get out of a dry spell with a short-term fling.
Hey guys. I hope you're all doing great despite the circumstances.
Today I want to answer the question: Should you date girls you don't feel too excited about?
FunkMaster69 raised this point:
"I've found myself meeting women that I just think are meh. I usually pass on them because I wanna date someone that I like and who excites me. But I've noticed that, as I've been getting older, there have been less and less women around me. Many of them are getting cuffed, and, of the ones left, the quality seems to be getting lower and lower...a lot of single moms too.

The thing is that I think my standards are too high...looking back now, I could have banged or married like 100 different ladies. Seriously, I could have gotten married back in high school to one of the ladies in my honor classes if I wasn't so obsessed with cheerleaders who didn't think I was their type (skinny little virgin). There aren't that many women who impress me or blow me away...especially nowadays that I'm not in college anymore. The last one that I met stopped talking to me.

The one in college never even began talking to me. And the one in high school broke up with me. So should I keep waiting until I meet another one, which could take a long time and whom I might not land considering history, or just say screw it and date an average woman who would be delighted to have me? I've always wanted to be with someone that I'm excited to date and brag about...but the thought of dating one of these women who are very excited to date me sounds nice. I figure the relationship would be easy, and it would be a lot easier to get the date in the first place. But deep down, I would know for sure that I settled...idk, both choices seem wrong for some reason.

"
First things first: I wouldn't commit to anything long-term with a girl who doesn't excite me. That would be selling myself short and eventually lead to a bad relationship.
However, for:
Why not?
Over the long-term, you want to move toward finding and getting the women who truly excite you. This is the ultimate goal.
I keep in touch with issues men deal with by answering questions raised in our online discussion forum. Having been around for nearly 15 years, I may have distanced myself a bit from regular guys. Forum posts allow me to catch up.
Were it not for this post, I wouldn't have reflected on this topic.