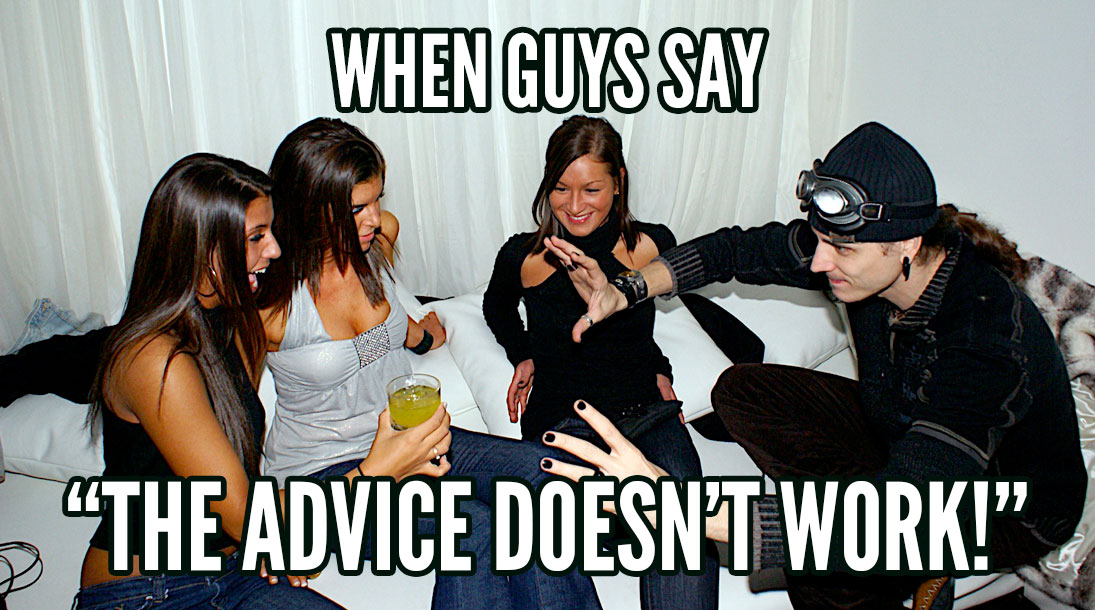 Have you tried out some advice from a pick up artist and it didn't work? Was it some pretty extreme bad advice, like "always do this super intense thing"?
I've interacted with lots and lots of students over the years.
You see all types, in terms of depths of study and levels of results:
There are the guys who study seduction for a bit and use it to get some lays and find a girlfriend

Then there are the guys who study seduction in-depth and go on to get respectably good with girls -- they rack up respectable notch counts, get some beautiful girls, and build a mini harem or settle down with a top notch long-term partner or wife

There are the guys who poke around with it a bit, read some, watch some, experiment a little, but never really commit to learning it, and drift off, eventually meeting whatever women come into their lives in more conventional ways (e.g., dating a friend's ex... hooking up with a girl from work... meeting some chick off a dating app, etc.)

Then you get guys who get into seduction for a while, do well with girls, but drift off to something else before they can really cement their results, presumably because woman success doesn't really do a lot for them and something else is more engaging to them

And, finally, in the 'most likely to leave irate and disappointed' category, you get the guys who get into it, became obsessive about it, but focus on the wrong things, and proceed to struggle for a while (sometimes for years), until they eventually flame out, sometimes angrily so
Among the guys who've actually studied seduction, except for those guys who flame out, there are generally positive feelings. It's pretty hard to argue that things like "keep your posture tall and erect" and "lead your conversations where you want them to go" is bad or harmful advice. Even if a guy doesn't stick with it long enough to get many immediate results, he will generally appreciate whatever he did learn.
However, there is a class of student that's mystified me for a long time.
This class of student will show up later on, typically after he's become disillusioned with a branch (or all branches) of seduction for this or that reason, and either accuse you (the teacher), or other teachers in the space, of giving shoddy advice that doesn't work.
Then you will ask him what this advice is that is not working for him, and he will tell you things that no seduction teacher has ever told a student to do, and that violate what you yourself personally tell people to do.
And you will wonder how did this chap get it in his head that this horrible advice he has seemingly pulled out of thin air is in fact what seduction teachers want people to do?
When I figured out what caused this, it also led me to a thinking mistake many students of just about any field (including seduction) appear to be prone to make.
That problem is the problem of thinking in extremes.