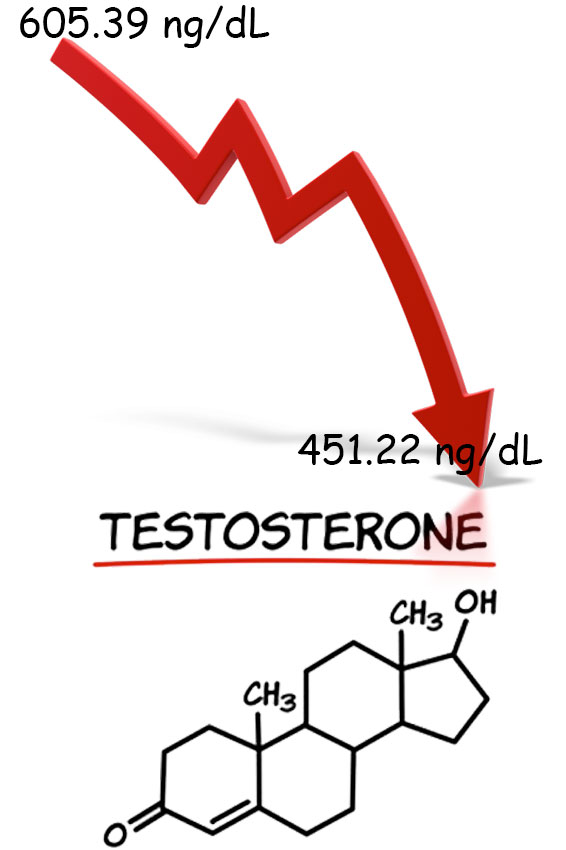 Over the past several decades, men's testosterone has declined by a lot. What's caused this huge drop, and what can you do to save your own t-levels?
A recent study published in the Journal of Sexual Medicine discovered men's testosterone levels fell by 25% between the year 2000 and the year 2015.
The study, conducted by researchers from the University of Miami, the University of Manitoba, and others, adjusted for lifestyle factors, age, and BMI, and still found a decline in testosterone across the board. (the Urology Times has a good non-paywalled write-up on the study here)
The gist:
Between the years 2000 and 2015, men's testosterone fell from 605.39 ng/dL to 451.22 ng/dL.
A man in Year 2015 had 74.5% of the testosterone a man in Year 2000 had.
Yet this decline did not begin in 2000.
An earlier study (from 2007) discovered men's testosterone had fallen 17% in the 17 years between 1987 and 2004.
If you take the 17% drop from 1987 to 2004, and then use the 2004 number (567.44 ng/dL) from the first study and drop it to the 2015 number (451.22 ng/dL), you're looking at a 38.4% overall drop in testosterone for American men between 1987 to 2015.
And what's more, the drop is accelerating.
It only fell 17% from its 1987 numbers in the first 17 years. It then fell 21% from its 2004 numbers over the next 11 years.
The rate of testosterone decline went 33% faster after 2004 than it did before 2004.
Soum Lokeshwar, one of the researchers on the recent study, notes, "We've seen that lower values of testosterone have been associated with increased comorbidities and an increase risk for all-cause mortality. This decline specifically, in these young adult men, with increased obesity may lead to an increase in precocious cancer."
Lokeshwar went on to add that as testosterone falls, men's libido falls too, and men increasingly struggle with erectile dysfunction.
There are problems beyond the rising health issues and collapsing sexual function of low testosterone men, however. A decline in testosterone causes problems at a civilization scale.
But first off: how did we get here, and how do we fix it?