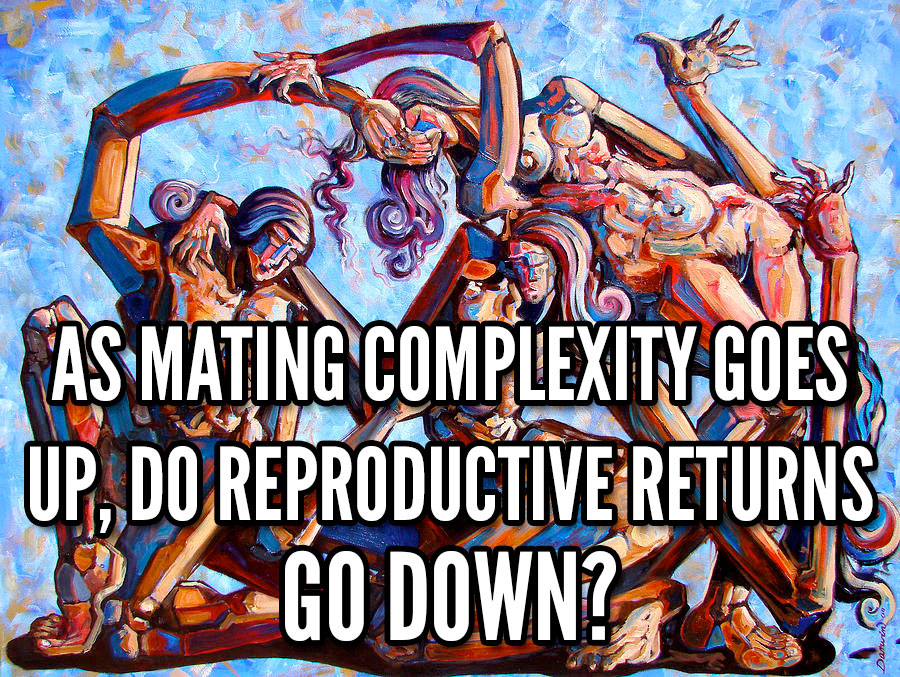 Mating gets more complex as our societies become more complex. But as complexity rises, does the law of diminishing (reproductive) returns set in? (image source: Darwin Leo)

Bit of an abstract/sociological article here.
A little more academic than usual, too.
If you'd prefer tactics on dealing with an increasingly complex mating market, see my Game Imbalance Theory series. Otherwise, if you're down for a little academic sociology, let's proceed...
I'm reading through John Tainter's brilliant The Collapse of Complex Societies. Tainter's premise is civilization (or society, as he prefers to call it) is a problem-solving entity. As a society encounters new problems (like a food shortage or a militaristic neighbor) it adds new layers to itself, to address the problem (more intensive farming, or the training of a better military). These new layers make the society more complex.
As the society becomes more complex (to deal with more problems), it requires more resources. For a while it gets these through conquest or opening up new resource channels. Later it must get them by raising taxes on the population and by controlling more and more of its populace's lives. The further along this process it goes, the greater the demands on the society's support population become, and the smaller the returns on its increasing complexity get. It must demand more and more, to support greater and greater complexity, for less and less return.
As I've read Tainter, it's gotten me thinking about romantic relationships. There are some fascinating trends in dating, mating, and reproduction... trends like:
Anecdotally, the Battle of the Sexes seems to have reached fevered pitch, with many jilted women asking "where all the good men have gone" and many jilted men complaining they didn't go anywhere but were overlooked while these women were too busy "riding the cock carousel" (and now no longer want these "post-wall" women). This is something it's harder to quantify, but I've gone through a fair few newspaper advice columns from the 1880s through the 1950s and don't recall coming across anything close to this level of back-and-forthing between the sexes.
Divorce rates have skyrocketed, even as the availability of sex partners seemingly has too (I can't find much data on historical lifetime sex partners, unfortunately, but I find it hard to believe the average number of lifetime sex partners was "seven" in the 18th and 19th Centuries, as it is now -- though here's an interesting article on changing views on sexuality across the times).
As I looked at all this, I had to wonder: is the ever-increasing complexity of modern dating to blame for dating's shabbier and shabbier results overall for men and women alike?