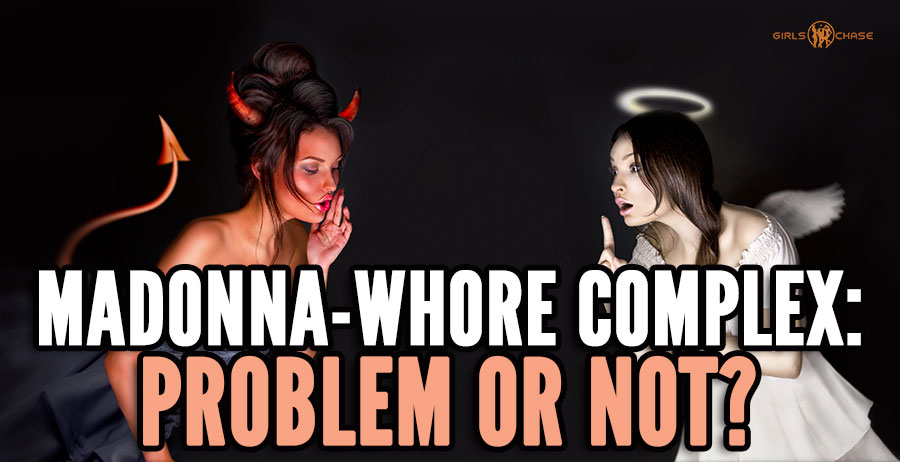 If you view some women as virginal saintly Madonnas, and others as dissolute slutty whores, does that create problems for you?
Have you ever heard of the Madonna-whore complex?
When I was young, there was this special girl.
She played volleyball for a rival school's team. When she'd come to play at my school, I'd watch her bounce and frolic and think: "If only she were my girl, I'd be the happiest guy in the world."
I built her up in my imagination to be the perfect girlfriend, even though I'd never met her. She was my "one-itis."
Fast forward a couple years. I entered high school, infiltrated her social circle, asked her out, and wow, she became my first girlfriend!
I spent a few months going to her house, making out on her couch, annoying her while she did her homework. I never slept with her because I "knew" she wasn't ready (hah).
In retrospect, I was the one who wasn't ready. I was young, needy, and insecure. So she dumped me.
I cried many boy tears. I left roses on her doorstep. I wrote her love letters. And then, a few days later, I saw her making out with the captain of the rugby team in front of my locker.
What? My angel must have been seduced by this evil bastard! He drugged her. He brainwashed her!
Many years later, I found her on Facebook. "You were my first girlfriend. I was crazy about you," I said.
"Oh, I remember that. I was such a slut back then," she replied.
And pop went my illusion of the perfect girl. By this point, I was an experienced man-whore. But I still had a Madonna-whore complex, and I saw her as a Madonna.