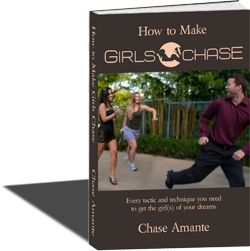 It was a long time coming, but How to Make Girls Chase is done, complete, and out-the-door. This is my masterpiece, for the moment -- originally intended as my farewell bid to the world of seduction, but since I might stick around a bit longer, at least I have it out so that no matter what happens, there's a record of what I've soaked up and figured out over the past six years of learning, practicing, and teaching pick up and seduction.
HTMGC is 406 pages of detailed, practicable information presented in step-by-step fashion to guide you to success and results with women. It's designed to be both manageable for beginners, and invaluable to long-time practitioners of the social and seductive arts, with cutting edge techniques presented in an easy-to-follow format that explains the rationale behind it all - so you know both what works, and why it works.
Click here to add a copy to your cart and get the download in your email right now, or go to the How to Make Girls Chase sales and information page to learn more about the book.
Thanks for reading!
Chase