Howdy gents,
I'm pleased to announce the boards, in development since early autumn and closed-but-active since mid-November, are now open to the public.
Opened up to an initial small group of 35 members one month ago, and expanded to a larger pool two weeks ago, we're now fully ready to roll out the new Girls Chase forum for you to read, learn from, post to, and connect with other guys on, with members everywhere from beginner to intermediate to advanced levels and beyond at getting girls, running relationships... the works.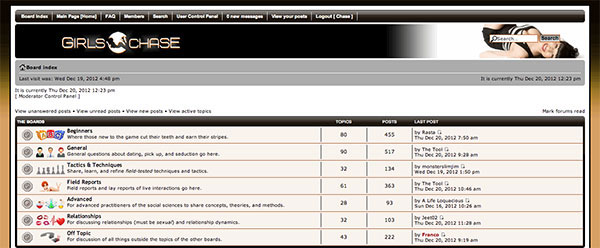 (the new Girls Chase Boards)
In only a month of existence, the boards have racked up almost 1900 posts across 350+ topics, but even more importantly, we're off to a great start in terms of culture and tone: it's a warm, open place focused on results, first and foremost; no cynicism, whining, complaining, or reaction-seeking, and it's almost 100% negativity-free.
Only a small part of that's due to me; truth is, we've got some great guys on there, from Franco, our moderator, to some of the more advanced guys helping out and providing their own insights (one of those guys, Eric, you've already seen some posts from out here on the blog), to the newer guys who are getting out there, working hard, sharing their results (progress and setbacks alike), and seeing successes: new phone numbers, more dates, kisses, lovers... even new girlfriends.
If you weren't part of the initial group to join, I recommend you check it out right now - we've removed the access restrictions, and anybody who's motivated and wants to help out, contribute, share his findings, chronicle his journey, and connect with other likeminded students of the social and seductive arts can do by clicking the "Discussion" link above, or by going right here:
http://www.girlschase.com/boards/
See you on the boards.
Chase