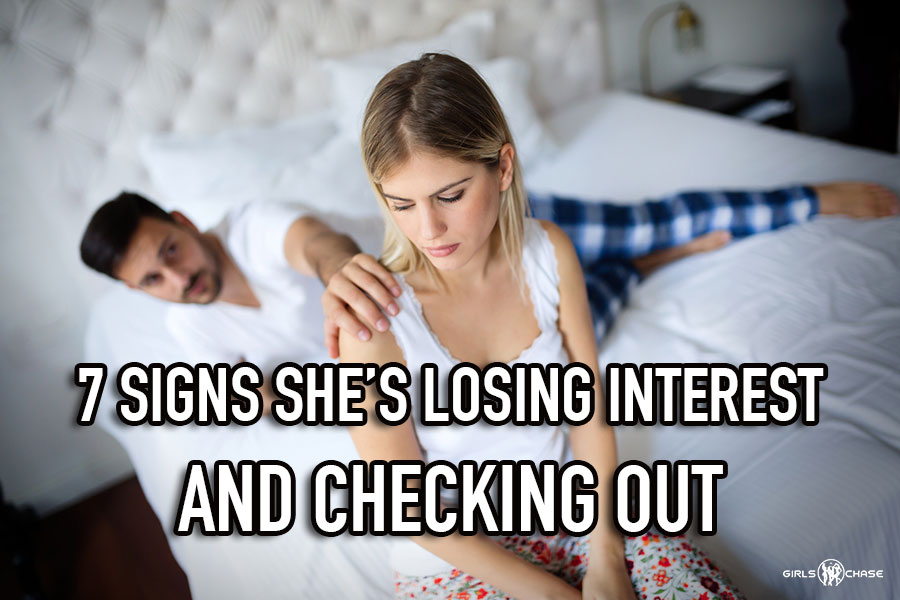 How do you know your girlfriend is losing interest and checking out? There are 7 signs of this, from makeovers to disagreeableness to new Sex in the City gal pals.

Picture this: you get into a relationship with a girl, and at first everything is pretty good. Not perfect, but good. Things coast along for a year or two, consistently pretty good: she's fun to be with, she cooks you nice meals, you have nice sex. It's good.
Then at some point, things start to feel 'different'. It's hard to put your finger on what. But it feels like your girlfriend is losing interest. Your gut tells you she is checking out... but when you confront her on it, she tells you not to be ridiculous. It's not that she's checking out, she says; she just wants to [whatever it is she's doing]. You grumble a bit and try to ignore your misgivings. Maybe she's right and it's all in your head.
A few months go by and the relationship quality is now definitely not what it used to be. When you try to talk to her about it though, she dismisses the thought. More and more, she seems checked out of the relationship.
Eventually she tells you she wants to "take a break" for a while and maybe get back together again later. You knew it was coming; but you couldn't put your finger on exactly why. And you knew of no way to stop it.
Today's article looks at the 7 most common signs a girlfriend is 'checking out' of your relationship. These are the signs she isn't out yet – but might be on her way there. Forewarned is forearmed; if you don't want to be broadsided by a surprise breakup (or a surprise affair), these signs are your fair warning. Note that these signs serve equally well for wives as they do for girlfriends; any serious relationship is subject to the same potential signs.