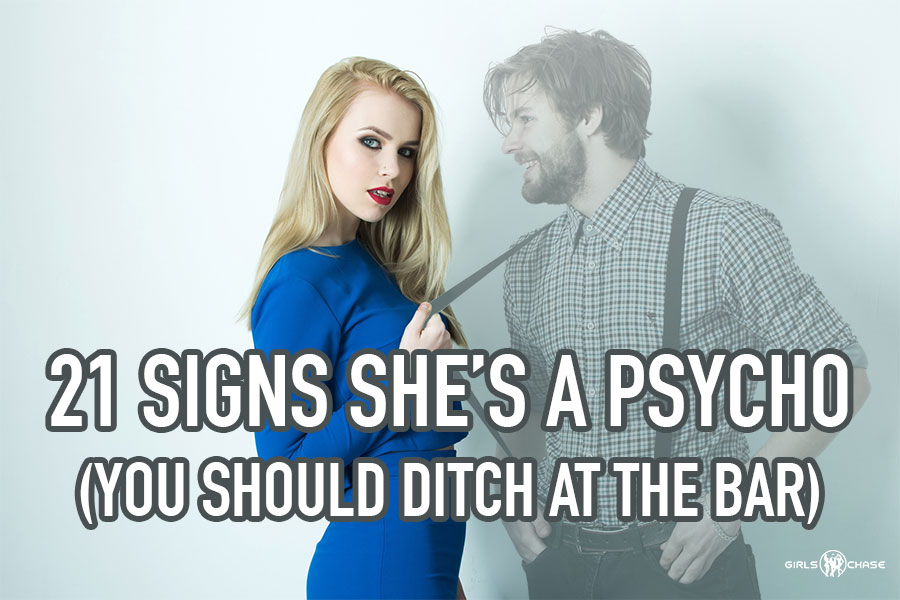 How do you know a girl is crazy, and best avoided when you meet her at the bar? Look for these 21 signs... and keep your distance!

Talking about my article "8 Red Flags She's a Crazy Girl You Should Stay Away From", reader SZ comments:
"I read the how to tell if a chicks crazy article, but it looks like if you kind of know her already, so if it's a same night lay or a fast lay, no way to tell.

How can you tell a chick will be a problem from the first interaction, so you know she's crazy right off the bat? How do you tell upfront ?"
Good question. How do you know right away... when you meet her on the street, in a party, or at a bar? How do you know if she's a potential danger to you? How can you identify the psychos – so you can weed them out?
As fun and liberating as hookup culture may be, there are plenty of folks who are off their rockers – and if you go out enough, you will meet them. Psycho men you need to avoid to stay out of fights. Psycho women you need to avoid for that reason... and for many more reasons. Psycho women may:
Manipulate you into fighting another man – psycho chicks often like to see men battle each other for their hands

Stalk you and harass you after sex – if you've never had a female stalker, you might think, "Eh, how bad can that be?" If you have had a female stalker though, you know it's both kinda scary (you don't have to be a big, burly man to sneak up on someone and plunge a knife in their throat; petite women can do this too), and it cramps your style in a major way (try keeping a high quality girlfriend while some psycho chick hounds you everywhere and contacts any woman she sees interacting with you to tell her made-up things to try and scare her off)

Slap you with a false rape accusation – between 45% and 55% of men accused of rape are falsely accused by women; it's an enormous problem in the West, and nobody talks about it (or is allowed to). While the odds are good her story will fall apart under police interrogation, and you will win the case, that won't stop you from losing $10,000 to $100,000 on attorney and court fees, getting suspended or expelled from school, getting suspended or fired from work, and losing some or most of your friends. You don't even need to have penetrative sex to get hit with an FRA; men who've no more than fingered a girl get hit with these, and sometimes a guy who's never even touched a girl will get FRA'd

Just generally be an un-fun time – even if she's not psycho enough to sick some meathead on you, follow you around and scare off other girls you date, or file a false police report claiming you raped her, psycho chicks are a lot of drama and can lead to some really draining nights out. Random crying fits, accusations followed by apologies, jealousy plotlines where she makes out with other men in front of you then gets angry if you try to leave, pulling you along somewhere you don't want to go and then ditching you when you get there... these are just a few of the things I've seen psycho women do in nightlife

Caveat for the people who take things completely literally at all times: I'm using the term 'psycho' here in the colloquial sense of the word. I'm not focused on the clinical definition of psychosis. Though you'll encounter some of that among women who exhibit these signs too. Instead, we are talking about crazy, nutty, outré behavior from broken people.

There is no reason to tolerate psychotic behavior from a woman. Unless you're wildly desperate. Then I guess you may not be able to help yourself. But I hope if you're someone who's read this site for a little while, you are not wildly desperate.
Otherwise, there are so many normal women out there, who are just as hot (usually hotter) than the psycho chicks, and will not ruin or seriously monkey up your life. You want to find these girls (the normal ones), and screen out the crazies.
To help you do so, I've prepared a list of 21 signs to keep your eyes peeled for when you hit the bar, the lounge, the nightclub, the party, or the street at night, to make sure you don't end up with a girl who'll sour you on dating.