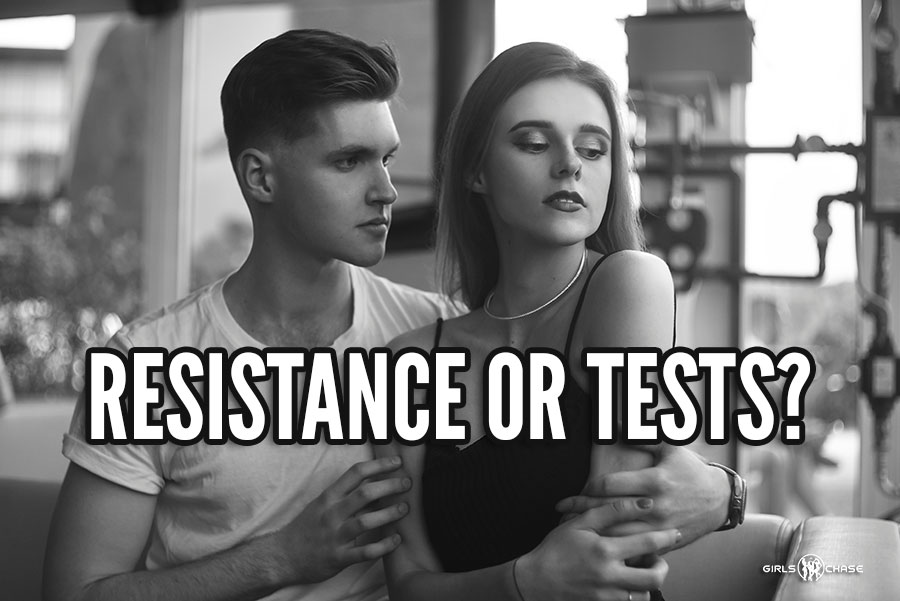 Sometimes girls' tests can look like resistance. Sometimes their resistance can look like tests. How do you tell the difference? With a few telltale signs.
Hey guys and welcome back.
In this post, I resume my series about women's testing of men they are or could be interested in. If you read all these posts, you will be prepared to handle most women's tests in most situations. Of course, some tests are so unique that they require an odd solution, but usually, those tests are rare. The knowledge you gain from this series will help you find a solution to the strangest of tests.
Many men tend to confuse when a woman is testing and when she is resisting. Today I will clarify the differences between the two. The quick response to this concern is that it is a non-concern. It doesn't matter what her motive is. What matters is what she expresses and how you respond. What she is doing or why she is doing it is irrelevant. If she is afraid of the slut label, tackle the issue head-on. If she is concerned about going home with strangers, address that issue. It does not matter if her resistance truly is resistance or a test—your response matters.
Although less likely, tests are camouflaged as resistance. If she is challenging your congruency because she is resisting, tackle it head-on as a test of congruency—even if she is doing so to resist.
For those more advanced who want to delve deeper into the subject, read on.
First, a quick reminder:
Testing is a way for a woman to test or steal your frame. By stealing your frame, she is indirectly testing it. If she grabs your frame, it means your frame is weak.
Resistance expresses a concern. She is worried about certain acts potentially leading to feeling negative emotions, pregnancy, risk of violence, or social shaming. Her concern remains valid until that concern is gone—your job is to handle her fears so they vanish, eliminating her resistance.
Theoretically, this distinction seems clear-cut. But practically, it's a bit blurry.
Let's go over why this confusion exists by explaining how resistance can sometimes be a test and vice versa before we learn what you can do about it.